Seattle wildlife photographer Art Wolfe has published over 50 books of his stunning photographs of natural landscapes, animals, and endangered species. Wolf's artistic photographic compositions have been included in hundreds of magazines. He's been honored with an Alfred Eisenstaed Magazine Photography Award (2000), with the North American Nature Photography Association's Outstanding Nature Photographer of the Year Award (1998), and was named 1996 Photographer of the Year by Photo Media Magazine. The National Audobon Society presented Wolfe with its first Rachael Carson Award in 1998. The son of commercial artists in Seattle, Washington, Art Wolfe graduated from the University of Washington in 1975 with a Bachelor of Fine Arts degree with a minor in Art Education.
---
Below are the Art Wolfe photographs that appear in the Allen Center. Text with each photo is drawn from Edge of the Earth, Corner of the Sky, © 2003 Artwolfe.com/WildlandsPress. All images © 2003 Art Wolfe.
Point Lobos State Reserve
California, USA
A palette of color and detail that would make an artist jealous awaits the beachcomber along the shores of California's Point Lobos State Reserve. Here a mixture of shells, rocks and dried seaweed combine to create a rainbow of hues that serves as a counterpoint to the graceful lines of the exposed coastal shelf. Low-hanging clouds mute the sun and provide the perfect light for capturing the subtleties of color. The name of this state reserve derives from the offshore rocks at Punta de los Lobos Marinos ("Point of the Sea Wolves"), where the sound of the local sea lions carries inland. The beaches and forested headlands of this park are spectacularly beautiful. The reserve protects rich flora and fauna of both land and sea, as well as geological formations and archaeological sites. It is located on the central coast of California in Monterey County, just south of Carmel.
Hasselblad Xpan, Hasselblad Xpan 4/45mm lens, f/22 at 1/8 second, Fujichrome Velvia film, Gitzo G1325 tripod
Lava Flow
Kilauea Volcano, Hawaii Volcanoes National Park, Hawaii, USA
Few Landscapes on Earth demonstrate the dynamics of land formation as clearly and dramatically as the "Big Island" of Hawaii. Through time, the continual island-building process has created Mauna Loa, from base to summit the largest volcano on Earth, and Kilauea, the world's most active volcano. Magma escapes from the Earth's interior, flows to the ocean's edge and quickly solidifies upon falling into the tumultuous waters of the seas. The superheated lava often explodes on entering the cool ocean waters.
Canon EOS-IN, Canon EF 70-200mm lens, f/22 at 1 second, Fujichrome Velvia film, Gitzo G1325 tripod
Amethyst Lake
Jasper National Park, Alberta, Canada
Moisture-laden clouds hang heavy over the Northern Rockies of Canada's Jasper National Park. In fall, marginal weather often prevails as storms coming in off the North Pacific stack up against the high mountains. A single shaft of sunlight penetrates a gap in the cloud cover and illuminates one of the peaks. Lichen-covered rocks protruding from Amethyst Lakes' waters direct you to the mountain backdrop. Amethyst Lake lies in Alberta's beautiful Tonquin Valley, above tree line in the heart of the park. Wildflower meadows and mountain caribou make this spot one of the most sublime anywhere. The lake's spectacular purple-blue waters give it its name.
Canon EOS-IN, Canon EF 17-35mm lens, f/22 at 2 seconds, 2-stop graduated neutral density filter, Fujichrome Velvia film, Gitzo G1228 tripod
Hoh Rainforest
Olympic National Park, Washington, USA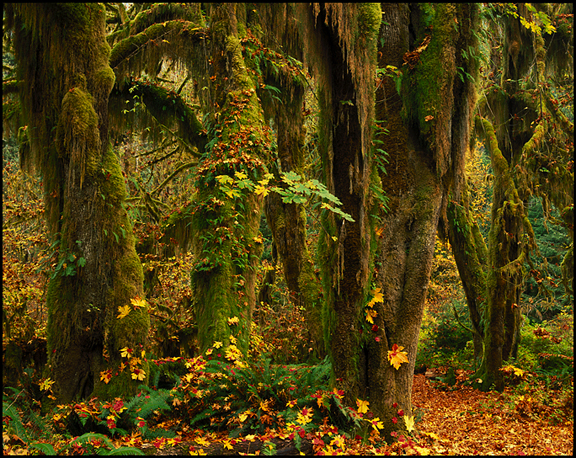 Along the western valleys of Washington's Olympic National Park, temperate rain forests receive as much as 425 centimeters (12-14 feet) of rain a year. A mild climate combined with high moisture levels creates an environment where lichen, mosses, and ferns thrive, carpeting the ground and enveloping the trees. The visual result is a landscape that resembles a fairyland: one might expect an elf to pop out at any moment. This setting is in the Hall of Mosses Trail, a delightful path through a jungle-like forest near the end of the Hoh River Road. The heavy overcast allows the subtleties of the various shades of greens and earth tones to be more evident. This rain forest is choked with broadleaf maples, Sitka spruce, western hemlock, western red cedar, Douglas fir, red alder, vine maple, ferns and lichen. About 95 percent of Olympic National Park was designated wilderness in 1988 to help protect the spectacular ecosystems in this special place. The glaciers of Mount Olympus flow into the Hoh River. In ancient times the rich river valley was inhabited by Pacific Northwest Coast Indians. The Hoh Rain Forest is a designated World Heritage Site.
Pentax 67II, Pentax SMCP 67 45mm lens, f/32 at 8 seconds, Fujichrome Velvia film, Gitzo G1548 tripod
The Sentinel
Glacier National Park, Montana
Glacier National Park is prime mountain goat habitat and the day I hiked the trail this one miraculously appeared. He was kind enough to stand motionless for several moments allowing me to capture him and this spectacular view of Hidden Lake near Logan Pass.
Text with each above photo is drawn from Edge of the Earth, Corner of the Sky, © 2003 Artwolfe.com/WildlandsPress. All images © 2003 by Art Wolfe.
---
Links
Biography

Article in UW Columns Magazine



---
Books
Edge of the Earth, Corner of the Sky

Pacific Northwest, Land of Light and Water

Alaska
---
Art in the Allen Center