---
In 2002....
---
CSE Undergraduate Erin Earl was a Finalist in the 2003 competition. CSE's Colin Bleckner, Samson Kwong, and Youngji Kim all received Honorable Mentions.
In the 2002 competition, CSE undergraduates Sara Su was selected as Runner Up for the female award, and Shirley Gaw received Honorable Mention.
In the 2001 competition, CSE's Kevin Zatloukal was selected as the nation's outstanding male undergraduate, and CSE's Matt Rosencrantz and Steve Zhang received Honorable Mention.
In the 2000 competition, CSE's Emma Brunskill (subsequent winner of a Rhodes Scholarship) was selected as Runner Up for the female award, and CSE's Adnan Sulejmanpasic received Honorable Mention.
"Edward W. Felten is a distinguished Princeton University computer scientist whose specialty is computer security and cryptography. So how come a Web log he created calls for the regulation of dog collars?"
"The educational facilities will be much better for UW students, and that's really the business we're in -- providing quality education."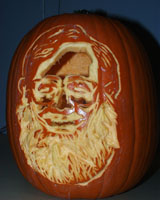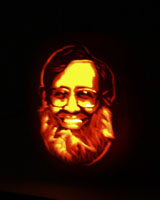 As part of a never-ending quest to one-up the Art Department, CSE graduate students have carved a pumpkin into an uncanny likeness of Maximum Leader David "Beard" Notkin. The plan is to convert this work of art into a pie in time for Halloween.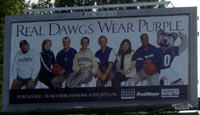 Or white or yellow. CSE's Ed Lazowska joins faculty members Ron Moore (Philosophy), Mary Claire King (Genetics), and Pepper Schwartz (Sociology), plus Husky coaches Rick Neuheisel (football), June Daugherty (women's basketball), and Lorenzo Romar (men's basketball) in an advertising campaign. Catch Husky Fever on a billboard or bus near you.
Simultaneous Multi-Threading, a novel scalar computer architecture pioneered by UW CSE faculty members Susan Eggers and Hank Levy and their student Dean Tullsen (now on the faculty at UC San Diego), has been incorporated into Intel processors. This multi-part series in Ars Technica provides a thorough introduction to SMT. UW SMT research web here.
"Computers were 'just cool,' now they're his livelihood."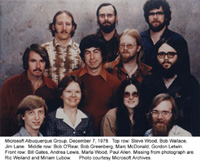 Bob Wallace, UW CSE Bachelors and Masters alumnus, employee #9 at Microsoft, and founder of the "shareware" movement with PC-Write at Quicksoft, died on Friday September 20. (New York Times article here; Paul Andrews column in the Seattle Times here; Brown Alumni Monthly article authored by Ed Lazowska here.)

Seattle Times: "Idealistic, straight-talking, political and intense, Mr. Wallace, 53, became a programmer because he thought computing was the best way to expand the mind."

New York Times: "'I remember Bob as a gentle soul who was soft-spoken, but creative, persistent and meticulous in his programming and thinking,' [Paul] Allen said."

Paul Andrews: "Truth ... integrity ... honesty. Not terms readily associated today with the software business or the business landscape in general. With Wallace's passing we are reminded that a person's legacy ultimately rests more on principle and example than on how much money, fame or power he or she accumulated."
CSE professor Raj Rao has been honored with a 2002 David and Lucille Packard Foundation Fellowship for Science and Engineering. Rao joins CSE professor Chris Diorio as a recipient of this extraordinarily competitive award. (Diorio was honored in 1998.) Rao also has been recognized by a Sloan Research Fellowship and a National Science Foundation CAREER Award. Complete list of Packard Fellows here.
"Gray Market For Gadgets" (September 2002)
Newsweek profiles CSE Ph.D. student Don Patterson and his research on artificial intelligence technologies to assist Alzheimer's patients. "For a guy who knows the software guts of a Tomahawk missile [Patterson is a former Navy lieutenant], programming a hand-held should be a no-brainer." Research web for the Assisted Cognition project is here.
Lee Hood wins inaugural Economist Innovation Award in Bioscience (September 2002)
Lee Hood, Affiliate Professor of CSE and President and Director of Seattle's Institute for Systems Biology, has been named the inaugural recipient of The Economist's Innovation Award in Bioscience. "Lee Hood's automated sequencing technology galvanized the international medical community in its quest to map the human genome in the late 1990's," stated Nick Valery, editor, The Economist Technology Quarterly. "The successful completion of this ambitious endeavor has huge implications for human health, the biotech industry, and the field of medical ethics. Dr. Hood's work has spawned an entirely new industry and brought humanity closer to understanding the nature of its very being."
Electronic Business profiles Intel's distributed research "lablets" -- small research groups situated adjacent to UW, Berkeley, and Carnegie Mellon. "Intel has expanded its research ambitions quietly. Over the past year, it has launched a long-term effort to help lay the technical foundation for a new approach to computing, called ubiquitous or pervasive computing. In the process, it's also attempting nothing less than to invent an entirely new model for doing R&D." See Intel Research Seattle website here.
Labscape project featured in TREND in Engineering (August 2002)
Labscape -- a joint project of UW CSE professor Larry Arnstein and UW's Cell Systems Initiative -- is a computer system that facilitates the preparation, execution, and documentation of biology laboratory protocols and experiments. While aimed at corporate and university biotech labs, during Spring 2002 it was used by students at Ballard High School.
This year the RoboCup was head in Fukuoka, Japan. Assistant Professor Dieter Fox and his students (Cody Kwok, Zach Crisman, Erik Curre, Nathan Ratliff, and Leonid Tsybert) made the trip in July, and scored their first victory ever, over the team from the Balkans! The team placed 8th out of 19 this year, qualifying for next year's competition. The team's travel was underwritten through the generous support of Microsoft Research, Lockheed Martin, The Ford Motor Company, and Intel. Photos of the trip and further information on our RoboCup effort can be found here.
A paper presented at AAAI by UW CSE professor Henry Kautz is receiving widespread press coverage, including an article in USA Today, . Professors Gaetano Borriello, Oren Etzioni, and Dieter Fox are co-PIs. Research web for the Assisted Cognition project is here.
(July 2002)
Since 1982, AT&T has acknowledged publicly those individuals in AT&T's technical community who have made continuous, outstanding and unique contributions to AT&T and the world through their technical and scientific achievements. CSE Alum Albert Greenberg was named an AT&T Fellow for groundbreaking contributions to IP traffic measurement and network management tools.
ee Hood wins Kyoto Prize (June 2002)
Affiliate Professor Leroy Hood, President and Director of the Institute for Systems Biology, has been selected to receive the 2002 Kyoto Prize in Advanced Technology for "outstanding contributions to life sciences through the development of automated instruments for the determination of protein and DNA sequences and their syntheses." The prize, awarded annually by the Inamori Foundation, consists of a diploma, a gold medal, and a cash gift of 50 million yen (approximatly $410,000).
(June 2002)
2002 will go down in Steve Wolfman's memory as a good year... a VERY good year. Not only did he win the College of Engineering's Outstanding Teaching Assistant award, but he was also recognized University-wide by winning an Excellence in Teaching Award.
Washington Governor Gary Locke spent a half hour visiting with UW CSE students, staff and faculty at the student ACM chapter's annual spring barbeque on May 24. Governor Locke has been a strong supporter of UW CSE and of technology programs statewide.
"Gates: Higher ed is key" (Tacoma News Tribune) (May 2002)
"Washington needs to invest in its higher education system to continue to remain a leader in technology, Microsoft co-founder Bill Gates said Friday. 'The number one thing is having universities that are super, super strong,' Gates told the more than 1,300 attendees of the Technology Alliance's annual luncheon in Seattle."
Sun and Intel have announced architectures exploiting SMT, pioneered by UW CSE faculty members Susan Eggers and Hank Levy along with their student Dean Tullsen. Other announcements are expected. "It gives you a huge bang for your buck." (Technical information on SMT here.)
Seattle Times coverage of a talk by Ed Lazowska to the Seattle Business Leaders Forum. Transparencies here. "Washington state is geared up to fight the last war."
Seattle Times profile of Bill Colleran, the CEO of UW CSE startup Impinj. "Founded by renowned chip expert Carver Mead and Chris Diorio, a University of Washington Associate Professor of Computer Science & Engineering, the Seattle company invented 'self-adaptive silicon' chips that make communications products smaller, faster and consume less power. In September, MIT Technology Review named Impinj one of 'the most original and promising companies formed in the last few years.'"
.
Seattle Times profile of Tim Paterson, UW CSE '78 and the father of DOS. "He's a leading competitor on Comedy Central's highly rated "BattleBots" cable-television show, where he drives his heavyweight robot Hexidecimator in fight-to-the-death matches against other high-tech luminaries and everyday folk."
CSE Affiliate Professor Lee Hood's Institute for Systems Biology is profiled in the Seattle Times. "The (institute) is about a new way of doing science, and young people that are changing the world."
CSE Adjunct Professors Phil Green and Maynard Olson are two of eight recipients of the Gairdner International Awards for 2002. The Gairdner Foundation awards are considered among the most prestigious in medical science. Since 1959, 56 of the 255 scientists receiving them have gone on to win Nobel prizes.

The annual graduate program rankings of US News & World Report have again placed UW CSE among the top ten programs in the nation in Computer Science, Computer Engineering, and all three US News computer science sub-fields: Artificial Intelligence, Systems, and Theory. UW CSE's undergraduate Computer Engineering program also is ranked among the top ten by US News. (US News does not rank undergraduate Computer Science programs.)

Four from CSE win 2002 NSF Graduate Research Fellowships (March 2002)
The National Science Foundation has awarded 3-year Graduate Research Fellowships -- among the nation's most competitive graduate fellowships -- to CSE first-year graduate student Nick Deibel, and to grad-school-bound CSE technical staff member David Akers and undergraduates Shirley Gaw and Sara Su. CSE first-year graduate student Andrew Petersen received Honorable Mention in this year's competition, as did former CSE undergraduate Gary Look (now a graduate student at MIT) and I-School doctoral candidate Nathan Freier (who has been conducting research with CSE Professor Alan Borning for several years).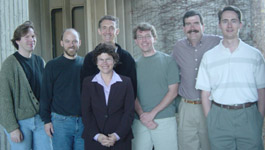 The Computer Science & Engineering faculty at the University of California, San Diego, includes five UW CSE Ph.D. alumni and one UW CSE B.S. alumnus. UW CSE faculty member Ed Lazowska is augmenting this crew while on sabbatical during 2001-02.
Chad's undergraduate research led to a job with Impinj, a startup co-founded by Chris Diorio and Carver Mead seeking to perfect "self-adaptive silicon" integrated circuits for low-power telecommunications applications.
Paul Allen and Bill Gates "got a big part of our start in computer science through the University of Washington when we were still students at Lakeside School," said Paul Allen in announcing his $14 million commitment to the UW Department of Computer Science & Engineering. "UW Computer Science & Engineering is an engine of opportunity, and we want to help make sure it's an even more cutting-edge resource for coming generations." The Bill & Melinda Gates Foundation committed $6.5 million to the project, as well. (See also Seattle Times and Seattle PI. Articles also appeared in the Tacoma News Tribune and the New York Times.)
"For Aaron Hertzmann, painting like a master is more a matter of algorithms than brush strokes. The acting assistant professor in the UW Department of Computer Science & Engineering has developed software that can take your favorite snapshot and recast it in the style of a master painter."
Steve Seitz wins Sloan Research Fellowship (February 2002)
It's been a good month for Steve Seitz. In addition to becoming CSE's fifth recipient of an Office of Naval Research Young Investigator Award, he has become CSE's eighth recipient of a Sloan Research Fellowship, following in the footsteps of Tom Anderson, Brian Curless, Chris Diorio, Alon Halevy, Raj Rao, David Salesin, and Dan Suciu.
David Notkin has been selected by R1edu, a distance learning consortium of 33 leading research universities, as one of three faculty members honored in its annual award competition. David was recognized for his work on the Learning Anywhere Anytime Partnership project with Prentice Hall, PBS and the Worldwide Organization of Webmasters. The $1.5 million project has resulted in four cutting-edge Internet-related certificate programs. R1edu also acknowledged David's role in the $1.5 million Department of Labor grant to create online computer science courses for a Computing & Software Systems program in cooperation with UW Bothell. Ed Lazowska was honored by R1edu last year. (See UW Daily article here.)
UW CSE startup Impinj wins WSA "Most Promising New Technology" award (February 2002)
At the 2002 WSA Industry Achievement Awards on February 7, UW CSE startup Impinj was named the winner for "Most Promising New Technology." UW CSE startup Nimble Technology was one of three finalists for "Most Promising New Company," and Singingfish, a startup whose founders include UW CSE graduates, was one of three finalists for "Consumer Product of the Year."
Steve Seitz wins Office of Naval Research Young Investigator Award (February 2002)
Steve joins CSE faculty members Brian Bershad, Chris Diorio, David Salesin, and Dan Weld as a recipient of the extremely competitive ONR Young Investigator Award. Steve is a two-time winner of the David Marr Prize for the best paper at the International Conference of Computer Vision, and the recipient of an NSF CAREER Award.
Erin is an 18-year-old senior (a product of the UW Early Entrance Program) and a triple major. She is doing research with CSE Professor Richard Ladner. Erin recently received the inaugural Jerre Noe Undergraduate Scholarship from CSE, which honors CSE's first department chair.
The UW Daily discusses the continued strong demand for UW Computer Science and Computer Engineering graduates: "From Mario to motherboards, tech jobs are still widely available and the UW produces some of the best graduates in the computer-science and computer-engineering industries."