---
In 2003....
---
"The University of Washington continues to expand its commitment to research and its relationship with the business community while preparing for the next wave in learning."
"If anything, 2003 will be remembered as the year the technology empire struck back ... The University of Washington in October opened the $72 million Paul G. Allen Center for Computer Science and Engineering ..."
2002 UW CSE Ph.D. alumnus AnHai Doan -- now an Assistant Professor of Computer Science at the University of Illinois -- has been named the recipient of the 2003 ACM Doctoral Dissertation Award, which recognizes the top doctoral dissertation in the nation in computer science and computer engineering.
"I think it's so important to give young people the opportunity to explore their passions -- whether it's computers and software, or music, or studying entrepreneurial skills -- whatever makes them excited about life and learning. I hope that my support of the new Allen Center will help create those opportunities for students ..."
A cover story in Columns, the University of Washington alumni magazine.
"The doors officially opened on October 9, the visitors streamed in, their eyes widened, and many exclaimed 'Wow!' No words of praise meant more, however, than the one from Paul G. Allen -- 'Stunning!'"
(Special Allen Center dedication issue of Most Significant Bits (department newsletter).)
"How Seattle remade itself" (The Straits Times) (November 2003)
One of Asia's leading newspapers profiles Austin, Boston, and Seattle as "brain magnet" cities.
"The emergence of winner-takes-all cities is usually linked to the presence of a dominating research university. Seattle is no exception. The University of Washington, which is in the city, has doubled its research budget in the past decade and is the country's leading public university as measured by federal funding."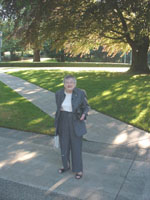 Isabell Notkin, mother of CSE chair David Notkin and close friend to many of us in CSE, passed away on November 23, 2003.
"[Madrona] invested ... in Hamlet, a Seattle online search company led by UW computer scientist Oren Etzioni ..."
"UW Allen Center fosters a culture of research -- Building designed to stimulate interaction" (Daily Journal of Commerce) (November 2003)
"There can be any number of ways to envision a building which responds to a specific program of objectives. In the case of the Paul G. Allen Center for Computer Science & Engineering, the project has attained success in architecturally capturing the spirit of team-learning centered on the personal interactive relationships between faculty, students and their physical environment."
A c|net article on the relationship of academia and industry includes a feature on the Paul G. Allen Center for Computer Science & Engineering.
"Urban Warfare: The Fight for Talent Among American Cities -- Brain-Gain Cities Attract Educated Young" (Washington Post) (November 2003)
The Washington Post features CSE graduate student and entrepreneur Ashutosh Tiwary, CSE spinoff Performant, and CSE friend and venture capitalist Sam Long.
"On a recent flight from Seattle to New York, we asked some passengers how much they paid for their tickets to find out just how much of a difference there can be in prices on the same flight. The responses ranged from about $155 to around $350. But a University of Washington professor believes he's come up with a better way to buy."
"Opening Doors: New Center a Community Affair -- Tech community digs deep to open Paul G. Allen Center for Computer Science & Engineering" (Washington Engineer) (November 2003)
[Article concerning the dedication of the Paul G. Allen Center for Computer Science & Engineering]
"When one walks through the Paul G. Allen Center for Computer Science & Engineering, it quickly becomes clear that the local technology community wanted this building to be built. The signs are everywhere."
Trick or treat! (October 2003)
[Jack-O-Lanterns concerning the dedication of the Paul G. Allen Center for Computer Science & Engineering]
[Article concerning the dedication of the Paul G. Allen Center for Computer Science & Engineering]
"Notkin and Lazowska realize that expectations are even higher for the program now. Based on past performance, they're confident that the technology sector's faith is well placed. 'Our program has a long record of committing to excellence and delivering on our commitments,' Lazowska said. 'If it had been just hot air, we would still be in Sieg Hall.'"
[Article concerning the dedication of the Paul G. Allen Center for Computer Science & Engineering]
"Bill Gates and Paul Allen met at Lakeside School, but they got serious about computers at the University of Washington. Like Tom Sawyer and Huck Finn in their cave, Gates and Allen prowled the UW's basement computer lab in the early 1970s to tinker with its big and rare machines. They don't have to sneak around anymore. Last night, in a private dinner with UW leaders, Allen and Gates were given electronic entry cards giving them permanent access to the new $72 million Paul G. Allen Center for Computer Science & Engineering."
[Article concerning the dedication of the Paul G. Allen Center for Computer Science & Engineering]
"'We have a history of pushing the boundaries here,' [CSE department chair David Notkin] said. 'Our secret sauce is having great people and no boundaries.' [Paul] Allen agreed, noting it was that very openness that led him, as a high school student, to sneak onto campus and use the UW computers in the graduate lab in the basement of Roberts Hall without permission. He contended it was not technically unauthorized use. 'The door was unlocked,' Allen said."
"UW dedicates new Paul Allen computer center" (Associated Press) (October 2003)
[Article concerning the dedication of the Paul G. Allen Center for Computer Science & Engineering]
"Paul Allen and Bill Gates wore out their welcome at the University of Washington while they were still in high school. They'd spend their free time there, fooling around with unoccupied computers until they learned enough to help launch the PC revolution. Nowadays, their welcome at the UW is pretty well assured ... Both Gates and Allen have said they wanted to give back to the university that was so important to their formative years, and where they spent so much time."
"$72M UW building is complete" and "Paul G. Allen Center for Computer Science & Engineering" (Seattle Daily Journal of Commerce) (October 2003)
[Article concerning the dedication of the Paul G. Allen Center for Computer Science & Engineering]
"Soccer-playing robot dogs will welcome visitors at Thursday's dedication and open house for the Paul G. Allen Center for Computer Science & Engineering on the University of Washington campus ... It was designed to offer hands-on learning, and was funded mostly by private donations."
"UW Dedicates Allen Center for Computer Science & Engineering" (Northwest Science & Technology) (September 2003)
[Article concerning the dedication of the Paul G. Allen Center for Computer Science & Engineering]
"The Allen Center is the new home for a program that recently celebrated its thirty-fifth anniversary. UW CSE has come a long way since the early days. Born as an inter-college graduate program in 1967, CSE has become known for its close-knit culture, spirit of innovation, and a generous helping of quirky humor. It's a program with a constellation of honors and awards that can only be described as stellar ..."
[Article concerning the dedication of the Paul G. Allen Center for Computer Science & Engineering]
"After nearly 30 years in Sieg Hall, the Department of Computer Science & Engineering began the academic year today in a new building. The Paul G. Allen Center for Computer Science & Engineering, completed on time and under budget, provides 85,000 assignable square feet, more than doubling CSE's total space and tripling its laboratory area ...
"'It's worth noting that this building truly is mostly privately funded,' said Lazowska ... The high level of private support did not come as a surprise to Notkin. 'Our mission resonates with people in the region, including alums, venture capitalists, and leaders of high-tech business in the area.' According to Lazowska, another reason for the campaign's success is that, even before the Allen Center, CSE was truly a top program ... 'We deliver. We produce unbelievably wonderful students. We create companies and transfer technologies. We provide leadership. People have seen this, and they have seen the impact. They want more of it.'"
CSE professor David Salesin delivers UW Freshman Convocation (September 2003)
"So what are the implications of all this exponential growth in so many areas of technology? I think they are huge! Unimaginably huge! In the next 20-25 years, we will see a whole century of progress at today's rate. But that's just the beginning. Because the very rate of progress is itself an example of exponential growth. By the end of the century, we'll see 20,000 years of progress at today's rate. That corresponds to a thousand times more change than the last century -- which was already pretty dramatic!"
See full talk, "College and the Art of Life," here.
[Article concerning the dedication of the Paul G. Allen Center for Computer Science & Engineering]
"The UW Department of Computer Science amp; Engineering finally has a new home worthy of its reputation as a leader in 21st century computer science ... it will transform the nature of education in the department and the University."
Down to Earth, Close to Heaven: The People of Bhutan, an exhibit of the Bhutan photographs of CSE Professor David Salesin, will be on display from September 6 through November 1 at Fugio, 1507 Belmont Ave., between Pike and Pine.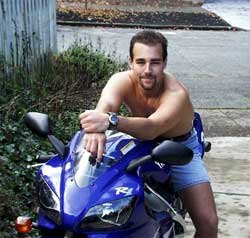 James Hewitt, Windows systems architect for UW CSE, died in a motorcycle accident on August 9 2003. He was 29.
James had been involved in tech support positions since he was in high school, working directly or as a contractor for UW, the Pacific Science Center, Microsoft, Attachmate, Providence Medical Center, Boeing, and CSE, among others. He also was the founder of Techwolf Networks, an enterprise technology consulting firm.
"After a period of neglect, the intellectual legacy of Seymour Cray, the father of the modern supercomputer, is being revived ... This design philosophy is being revitalized by Burton J. Smith, a founder and the chief scientist of the Seattle-based Tera ..."
Addressing 350 faculty members from more than 100 universities, Microsoft's Bill Gates notes: "The excitement in the last decade was great, it got us a lot of connectivity, moved some things forward. But the really tough problems are the ones that we'll solve this decade."
UW CSE startup Nimble Technology acquired by Actuate (July 2003)
"Actuate Corporation, the world leader in scalable Business Intelligence Applications, today announced that it has completed the acquisition of Nimble Technology, a privately held Enterprise Information Integration company, founded in 1999 as a result of a five year research program in the Department of Computer Science & Engineering at the University of Washington."
Fundraising complete for new CSE building (July 2003)
July 3 marks the successful completion of the fundraising campaign for UW's new Paul G. Allen Center for Computer Science & Engineering. More than 250 donors have committed a total of $42 million in private funds, complementing $30 million in University of Washington and State funds. The project is on-time and on-budget. A phased movein will take place between early July and early September. Classes start September 29, and the formal dedication will take place October 9.
Seattle Times article here.
Teranode, co-founded by Larry Arnstein from UW CSE, provides software technology for biotech laboratories. "People think of universities as places where you develop technologies, but we also develop people and relationships," said Charles Williams, director of the UW Office of Software & Copyright Ventures. "It's very telling that Teranode was formed from faculty and students of the University. UW is a great place to meet other talented people with a broad range of interests, and find others who share your vision for the future."

Erin, a June 2003 UW graduate at age 18, is a triple major in Computer Science, Music Theory, and Applied Music (piano). She received the 2003 Arts & Sciences Dean's Medal for the Arts, and will pursue graduate work in music at Indiana University in the fall -- computer science is her backup plan!
The ISCA Influential Paper Award will be presented annually by ACM SIGARCH and IEEE-CS TCCA at the jointly-sponsored International Symposium on Computer Architecture, to recognize the paper from the ISCA symposium 15 years earlier that has had the greatest impact on the field of computer architecture in the intervening years in terms of research, development, products or ideas.
The inaugural ISCA Influential Paper Award was presented at the 2003 ISCA symposium to CSE professor Jean-Loup Baer and his then-graduate-student (now Intel architect) Wen-Hann Wang, for their 1988 ISCA paper "On the Inclusion Properties for Multi-Level Cache Hierarchies."
NBC Nightly News anchor Tom Brokaw and reporter George Lewis interview UW CSE professor Oren Etzioni concerning his "Hamlet" technology for finding bargain air fares.
Mercury Interactive has acquired UW CSE startup Performant, Inc. Performant, co-founded in 2000 by CSE graduate students Ashutosh Tiwary and Przemek Pardyak and CSE faculty member Hank Levy, builds software products focused on performance problem solving and tuning, particularly of Java 2 Enterprise Edition (J2EE) applications. Performant has 30 employees, including UW CSE Ph.D.s Ted Romer and Lauren Bricker. Tiwary, CTO and Chairman of Performant, will become VP of J2EE Diagnostics at Mercury Interactive.
Seattle Times article New York Times article here.
Ed Lazowska, Bill & Melinda Gates Chair, has been appointed by the White House as co-chair of the President's Information Technology Advisory Committee (PITAC). "PITAC will help guide the Administration's efforts to accelerate the development and adoption of information technologies vital for American prosperity in the 21st century," according to the White House press release.
Affiliate Professor Leroy Hood, president and co-founder of Seattle's Institute for Systems Biology, has received the annual $500,000 Lemeson-MIT Prize -- the world's largest single cash prize for invention -- "for his vision and inventions, which have permanently changed the course of biology, and revolutionized the understanding of genetics, life, and human health."
"Hamlet" uses datamining to answer the question "to buy, or not to buy?" by predicting when air fares will be at their cheapest. "On a simulated run of the program, 607 would-be passengers saved almost $300,000 based on advice on when to buy a ticket."
Ph.D. alumna Fran Berman named to endowed chair at UCSD (April 2003)
1979 Ph.D. alumna Fran Berman has been appointed first holder of the Endowed Chair in High Performance Computing at the University of California, San Diego. Berman is a professor of Computer Science & Engineering and directs the San Diego Supercomputer Center (SDSC) at UCSD. "Fran Berman is a pioneer in grid computing and a leader in the international effort to build a comprehensive information infrastructure to support 21st century research in science and engineering," said UCSD Jacobs School Dean Frieder Seible.
Venkat Guruswami wins ACM Doctoral Dissertation Award (March 2003)
CSE Assistant Professor Venkat Guruswami has been named the winner of this year's ACM Doctoral Dissertation Award, for the most outstanding dissertation in the field of computer science. Venkat's dissertation, "List Decoding of Error-Correcting Codes," was supervised by Madhu Sudan at MIT.
Two University of Washington teams were among 11 awarded "Outstanding Winner" status -- from among 638 total entries -- in this year's Mathematical Contest in Modeling, an annual competition administered by the Consortium for Mathematics and Its Applications.
Both of UW's 3-person teams included a Computer Science undergraduate major: sophomore Simon Pai (whose team additionally received special recognition from the Mathematical Association of America), and senior Sam Coskey (whose team additionally received special recognition from the Institute for Operations Research and the Management Sciences).
Complete contest results available here.
CSE Professor Susan Eggers was profiled in the March 2003 issue of ComputerSource magazine. "Most people might not know of Eggers, but anyone who buys a computer in the coming years will have been touched by her work." Eggers' web page here; Simultaneous MultiThreading project web page here.
"Host Bob Edwards profiles the use, abuse and possible defenses against the e-mail inbox phenomenon known as Spam. University of Washington Computer Science Professor Oren Etzioni says the pesky solicitation messages have reached 7 billion daily."
"Anderson has been working in tandem with Microsoft researchers to develop and deploy a Tablet PC-based lecture presentation system that researchers hope will increase opportunities for interaction with students."
UW CSE Affiliate Professors Phil Bernstein and Burton Smith have been elected to the "Class of 2003" of the National Academy of Engineering. Election to NAE is regarded as one of the highest professional distinctions accorded an engineer.
Domingos, Popović win CSE's 9th and 10th Sloan Research Fellowships (February 2003)
Assistant Professors Pedro Domingos and Zoran Popović have been named to the 2003 class of Sloan Research Fellows. The Sloan Research Fellowship program recognizes the nation's most outstanding young faculty members in the sciences.
Domingos and Popović are CSE's 9th and 10th Sloan recipients, joining Tom Anderson, Brian Curless, Chris Diorio, Alon Halevy, Raj Rao, David Salesin, Steve Seitz, and Dan Suciu.
Domingos and Popović each have been recognized previously with NSF CAREER Awards.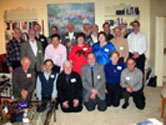 Jerre Noe, recruited from SRI in 1968 as the first chair of UW Computer Science & Engineering, turned 80 on February 1 2003.
Raj Rao wins Office of Naval Research Young Investigator Award (January 2003)
CSE professor Raj Rao has been named one of 26 FY03 Office of Naval Research Young Investigators. The ONRYIs come from all fields of science and engineering; this year two were awarded nationally in the Mathematical, Computer and Information Sciences Division and two in the Cognitive, Neural, and Biomolecular Science and Technology Division.
Rao is CSE's sixth ONRYI Award recipient. He joins Brian Bershad, Chris Diorio, David Salesin, Steve Seitz, and Dan Weld.
Rao has previously been recognized by a David and Lucille Packard Foundation Fellowship for Science and Engineering (CSE's 2nd), a Sloan Research Fellowship (CSE's 8th), and a National Science Foundation CAREER Award (CSE's 29th, including predecessor programs).
"The project provides a vivid example of public support for the University of Washington, Lazowska said. 'Because of CSE's close ties with our alumni and with the region's technology and venture capital communities, our project has attracted nearly $40 million in private funds thus far,' supplementing $30 million in state and UW funds. 'In extraordinarily difficult economic times, our friends and alumni have really come through,' he said. 'They see the importance of the ideas and people that flow from our program, and their gifts have made this project possible.'"
"What is unique about Intel's lablets, says Ed Lazowska, former chair of the University of Washington's Computer Science & Engineering Department, is that they are created with the explicit purpose of collaboration, and the specific projects are picked from the intersection of what's interesting to both Intel and the neighboring university ... As current University of Washington CSE chair David Notkin states, '... this is an ecosystem that the region is extremely fortunate to have.'"
Six times each year, ISI Essential Science Indicators recognizes a single "fast breaking paper" in each of 22 broad fields of science -- the paper having the highest rate of increase in citations in its field. For November/December 2002 in the computer science field, that paper was "Validating clustering for gene expression data" by UW CSE Ph.D. student (now UW Microbiology bioinformatics scientist) Ka Yee Yeung, UW Radiology professor David R. Haynor, and UW CSE professor Larry Ruzzo.
"Here in the State of Washington, we are failing to make the choices that will leave our kids the kind of region they need ... Our economy is creating jobs for which our education system is not preparing our kids. It's an enormous issue for this state and we don't have any discernible plan."