---
In 2004....
---
"Thought powers computer" (Seattle PI) (December 2004)
The Seattle PI profiles the work of CSE student Kai Miller on a "brain-computer interface" that allows a UW Medicine patient to control a Pong game merely by thinking.
The Seattle Times profiles UW CSE professor James Landay and Intel Research Seattle. "Intel opened a lab in Seattle three years ago to work near the University of Washington and collaborate with UW's Computer Science & Engineering department. Intel also put labs near the University of California, Berkeley, Carnegie Mellon University in Pittsburgh, and the University of Cambridge in England. All four are among the top computer-science schools in the world."
UW CSE professor Brian Bershad has been honored as the fourth recipient of the Mark Weiser Award.
The Weiser Award was established in 2001 by ACM's Special Interest Group on Operating Systems. Recipients, who must have begun their careers no earlier than 20 years prior to nomination, are selected based upon "contributions that are highly creative, innovative, and possibly high-risk, in keeping with the visionary spirit of Mark Weiser." Weiser was a computing visionary recognized for his research accomplishments during his career at Xerox PARC. The foremost proselyte of Ubiquitous Computing, Weiser was claimed by cancer in 1999 at the age of 46.
Bershad received his Bachelors degree from UC Berkeley in 1986 and his Ph.D. from the University of Washington in 1990. He began his faculty career at Carnegie Mellon University, returning to UW as a faculty member in 1993. Previous recipients of the Weiser Award are Frans Kaashoek (MIT), Mendel Rosenblum (Stanford), and Mike Burrows (Google).
The UW Daily profiles CSE undergraduate student Ahror Rahmedov. "The UW senior is working to complete his degree in Computer Science & Engineering. His hopes live in a green dry-erase marker, with which he's scrawled eight graduate school options on a whiteboard ... Franklin interpreted for Ahror during a presentation at the UW's Undergraduate Research Symposium. Microsoft Agent Scripting Helper sound-synthesis software gave him a voice during a presentation last winter. Recently, he presented in a national conference."
At a ceremony keynoted by University of Washington President Mark A. Emmert, Professor Henry M. Levy was named to the newly-created Wissner-Slivka Endowed Chair in Computer Science & Engineering. The chair was endowed through the generosity of the Wissner-Slivka Foundation, established by CSE friends Ben Slivka and Lisa Wissner-Slivka.
Celebratory event brochure here (pdf).
Event program here (pdf).
Event photographs here.
Wissner-Slivka Foundation web here.
"At his lab in Seattle, Gaetano Borriello and his University of Washington team have built a working prototype of a smartwatch that operates using radio frequency identification tags to help people keep track of their stuff. The device is destined to become an application for the memory-challenged but is being designed with privacy rights in mind."
"'I wouldn't think of it as a stick in anyone's eye. It's just an attempt to hire the best people, wherever they might be.'"
"Who are the heavy hitters who make things happen locally in business, arts, sports, religion, philanthropy, politics, and more? We combed the city to come up with these Top 25. Seattle just wouldn't be Seattle without them."
In addition to Lazowska, the honorees include Paul Allen (CEO, Vulcan Inc.), Bruce Carter (President and CEO, Zymogenetics), Gene Duvernoy (President, Cascade Land Conservancy), Joel Horn (Executive Director, Seattle Monorail Project), Deborah Jacobs (Seattle City Librarian), Robert Jeffrey (Publisher/CEO, ColorsNW magazine, Carl Mack (President, King County NAACP), Jim McDermott (U.S. Congressman), Jamie & Karen Moyer (Seattle Mariner, and founders, The Moyer Foundation), Patty Murray (U.S. Senator), and Patty Stonesifer (President and Co-Chair, Bill & Melinda Gates Foundation).
"High tech offers hope to the elderly" (Seattle Times) (October 2004)
"With the pending new computer technology and gadgets, many older persons may avoid nursing homes and live independently or with a little assistance in the near future ...
"'There will be significant changes in five years,' said Henry Kautz, UW professor of computer science & engineering. 'We can't put everybody in nursing homes ...' Technology will play a big role in providing safety and independence for seniors, Kautz said."
UW CSE Ph.D. alumnus Gary Kildall featured in Parade magazine (October 2004)
"He was the true founder of the personal computer revolution and the father of operating systems for the PC software industry."
The Parade article was taken from the book and PBS series They Made America -- see the Kildall article on the PBS "They Made America" website here.
"What the user really wants is for the programs to stop crashing in the first place. To get that, you need to keep Watson enabled, and click on the Send button. We use the data, we really do! We're fixing bugs!"
Kirk has been a Microsoft developer since 1983.
"The director of architecture for MIPS Technologies, and the person directly responsible for the company's recently announced signal-processing extensions ... Thekkath received a Ph.D. in computer science, not electronics engineering, from the University of Washington. 'The university has a very systems-oriented program,' she said. 'Computer science there was not a theoretical discipline at all ... My thesis, as it happened, was related to multithreading -- that was in the very early days of the work on the topic.'
"Now she is the keeper of the MIPS architecture. But she is also an explorer, a listener, a purveyor of 'what ifs.' To Thekkath, building the modern architecture is not constructing an edifice in the clouds but finding ways to make the fundamentals of the MIPS architecture more valuable to real designers -- hardware and software -- in real systems."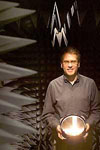 "In a testing chamber at Impinj, CEO William Colleran holds a silicon wafer that contains about 40,000 chips designed to replace bar-code technology. Radio frequency identification tags and reading devices are a new way to monitor product movement and store information ... Impinj, a Seattle company that designs the microchips that function as the brain of the RFID tag, has received funding totaling $50 million, most recently a $22 million infusion in July from its three original investors, plus three new ones."
Lazowska on I-884 (Ballard News-Tribune) (October 2004)
"Nothing is more important than the education of our children -- particularly because the leading edge of our economy increasingly involves the production of 'knowledge goods' such as computer software."
"The class of 2004 includes 177 Fellows and 24 Foreign Honorary Members chosen from the fields of scholarship, business, the arts, and public affairs ... U.S. Senator Paul Sarbanes, director of the Space Telescope Science Institute Steven V.W. Beckwith, literary scholar and president of Duke University Richard H. Brodhead, neurobiologist and provost of Harvard University Steven E. Hyman, and circuit judge for the U.S. Court of Appeals for the 7th Circuit Diane P. Wood spoke at the ceremony. Carl Phillips, poet and professor of English and African and Afro-American Studies at Washington University in St. Louis, read a selection of poems. All are members of the class of 2004."
"WRF Capital's Ron Howell, a Hamlet investor who is still kicking himself after passing up an opportunity to invest in Etzioni's first successful startup, Netbot, also welcomes the skeptics.
"'Good,' Howell said, when told of the doubters. 'That makes it more valuable when it works. When you have people say you can't do it, that's when you have a really exciting, interesting and hopefully valuable company.'"
Professors Larry Ruzzo and Martin Tompa anchor UW CSE's computational molecular biology effort.
"This project demonstrates one of the promises of ubiquitous computing, which is that our information systems will be proactive," Borriello explained. "That means that information will be made available as we need it, as opposed to our having to request it."
"Just Do-It: UW won't let disabilities keep students from success" (UW Daily) (October 2004)
"Computer Science & Engineering professor Richard Ladner describes one of the computer programs written by Do-It students. Ladner works with Do-It students on computer applications, including programming and other projects."
For many people with brain injuries, mental retardation, or Alzheimer's disease, getting lost or disoriented is a common and distressing experience. At the University of Washington, computer scientist Henry Kautz's team has developed a system that uses cell phones to monitor users' whereabouts and help keep them on track."
"LOOKING is a collaboration to design the data and control architecture for ocean observatories, exemplified by NEPTUNE," Lazowska said. "Three things are exciting about the overall vision. First, there is a clear opportunity to transform the way ocean science is done. Second, there is ground-breaking computer science involved. Third, the effort exemplifies a 'new computational science and engineering.'
"Over the past two decades, numerical simulation -- supercomputing -- has joined theory and experimentation as a third full-fledged member of the science and engineering arsenal. Over the next two decades, we will see many examples of a fourth paradigm: a new 'sensor-driven' and 'data-driven' form of science and engineering, in which millions of sensors stream data which must be correlated, analyzed, archived, mined and visualized. UW must become a leader in this new interdisciplinary field, because our competitiveness in many existing fields depends upon it."
"To all who know him, it will come as no surprise that Ed has served CRA and the computing research community well with his characteristic energy and enthusiasm. He has simply made a tremendous difference."
"'I hope that voters ask themselves, 'What sort of future do I want for my kids and for my grandkids?'' said Edward Lazowska, a University of Washington computer science professor and initiative backer. 'And then think about whether the education system we have in this state is providing the preparation for that kind of future.'
"'People need to rely as much as anything on their common sense about what the factors are that create a strong modern economy and what the opportunities are that they want for their kids,' said Lazowska."
"Seattle Lab Making an Impact" (August 2004)
Intel's corporate website features Intel Research Seattle: "At Intel Research Seattle, near the University of Washington campus, Intel and university researchers are exploring new technologies to support the ubiquitous computing environments of the future. The lab is part of a novel experiment by Intel, to accelerate long-term research by applying a collaborative, open approach."

On a cruise aboard the University of Washington oceanographic research vessel R/V Thomas G. Thompson, President Mark Emmert models his Paul G. Allen Center fleece jacket!
"What does a Nobel laureate need to bounce a radio signal off the moon? A good error-correcting code, for one thing. Now, a breakthrough error-correction method has turned almost 40 years of conventional wisdom in digital communications on its head ...
"For his breakthrough, [Guruswami's MIT Ph.D. Advisor Madhu] Sudan received the 2002 Rolf Nevanlinna Prize, awarded by the International Mathematical Union for outstanding contributions in the mathematical aspects of information science. That same year, Guruswami received the Association for Computing Machinery's award for the best doctoral dissertation in computer science and engineering."
The National Science Foundation profiles the Ph.D. research of UW CSE professor Venkat Guruswami in its Behind the Headlines feature.
The Futurist features CSE professor Henry Kautz's "Assisted Cognition" project. "'The question is whether we can build systems that are smart enough, flexible enough, and reliable enough to replace human caregivers,' says Henry Kautz, who leads the University of Washington's Assisted Cognition Project. 'I'm confident that we can ...'"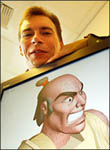 The Seattle PI profiles UW CSE bachelors and Ph.D. alumnus Hugues Hoppe, a Senior Researcher at Microsoft and winner of the 2004 ACM SIGGRAPH Computer Graphics Achievement Award.
"Hoppe is known in the computer-graphics industry for making big advances in a technology that provides the underlying framework for three-dimensional images such as video-game characters. But around the University of Washington computer science department, where he was a graduate student in the early 1990s, Hoppe is also known for a different advance. It was called 'Dogfight.' The video game -- primitive by today's standards but advanced for its time -- was an airplane combat simulation in which players competed against one another on terminals over a network. Developed by Hoppe, it was so enthralling that it basically 'crippled the entire department for most of a year,' recalls UW computer science professor Ed Lazowska ...
"Hoppe called his graduate-school experience a turning point in his life, in part because of the people he was able to work with and learn from."
(Hoppe's photo appears in the Seattle PI online "Week in Review.")
"Do you ever wish there was something that could stop you forgetting things like your keys, cellphone or wallet? Well, soon your wristwatch could do just that, thanks to an idea being developed by engineers in Seattle."
UW CSE faculty member Zoran Popović has been recognized with the 2004 ACM SIGGRAPH Significant New Researcher Award. UW CSE bachelors and Ph.D. alumnus Hugues Hoppe, a Senior Researcher at Microsoft, has been recognized with the 2004 ACM SIGGRAPH Computer Graphics Achievement Award. (Previous recipients of the Computer Graphics Achievement Award include UW CSE faculty members David Salesin and Tony DeRose (now at Pixar); DeRose was Hoppe's Ph.D. advisor.) Both awards were presented at the 2004 ACM SIGGRAPH Conference, the premier technical forum in computer graphics.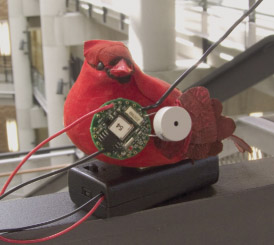 The cover article in August's Computer describes UW's CSE 466: Software for Embedded Systems. "Integrating wireless sensor networks in an undergraduate embedded systems course exposes students to an important emerging technology in the core of the computer engineering curriculum."
Anderson's work centers on using technology to enhance instruction and increase interaction between instructors and students.
"The limestone lion is an example of how technology is transforming the way sculpture, architectural elements and many other once-hand-carved items can be created or cloned. Scanners, computer-aided design software and automated milling devices are assisting sculptors and in some cases replacing them, creating detailed pieces from slabs of marble and reverse-engineering complex forms ... Is such a sculpture art, or merely a computer-aided copy?
Jill Bennett (Seattle Times) (July 2004)
"Jill Bennett ... widely known in the high-tech industry and a leading cancer-research advocate in Seattle, died Wednesday (July 14) of cancer. She was 48. 'She was a remarkable human being -- gifted, dedicated, and full of life,' said Bill Gates, Microsoft chairman. 'She fought her cancer as bravely as anyone I've ever known. She never gave in -- she actually found strength in bringing attention to the issue and inspiring people to work toward a cure.'"
Jill, a friend to many at the University of Washington, was Digital Equipment Corporation's UW representative throughout the 1980s, a period when DEC's support was crucial to growing UW Computer Science & Engineering's effectiveness.
The UW Daily describes CSE professor Oren Etzioni's research in search technologies. "In William Gibson's 1984 sci-fi novel Neuromancer, he painted a vivid picture of the future of computing. Gibson, an English major with almost no background in computer science, coined terms like 'cyberspace' and 'the matrix,' and described his imaginary worldwide network in remarkable detail. 'In another 20 years, we may actually begin to ask the kind of complex questions that we saw in Neuromancer,' said Etzioni. 'But to have those technologies in the future means that we must start today.'"
"The promise is for RFID to make shipping products faster and cheaper. Instead of warehouse workers breaking down each box to scan barcodes on toothpaste tubes and mayonnaise jars, a tag will be attached to each item so it can be identified when passing through a reader -- even when buried inside a cardboard box. To that end, Impinj has raised $22 million in venture capital, to move from development into manufacturing. Mobius Venture Capital participated along with previous investors ARCH Venture Partners, Madrona Venture Group and Polaris Venture Partners."
Impinj was founded in 2000 by UW CSE professor Chris Diorio and his Caltech thesis advisor, VLSI legend Carver Mead.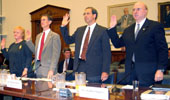 Technology Daily reports on Lazowska's testimony: "The innovation that ... drives the new economy today is the fruit of investments the federal government made in basic research 10, 15 and 30 years ago." Oral testimony here (pdf). Written testimony here (pdf).
"Jeremy Jaech -- one of the most accomplished technology entrepreneurs in Seattle -- is taking a chance with another startup company. The co-founder of Aldus and Visio has formed a new venture called The Graw Group that reunites top executives and venture capitalists from Visio, a graphics software company that was sold to Microsoft for $1.3 billion in 2000. Jaech -- who grew up in Richland and received degrees in math and computer science from the University of Washington ..."
"Computer science is at the core of all organizations these days You can't run a business, you can't do research and you can't run governments without appropriate computing support ... 'We're educating the future designers and leaders in the computer industry,' Notkin says."
At the ACM Awards Banquet in New York on June 5 2004, UW CSE graduate student Mike Swift was announced as the winner of the ACM Graduate Student Research Competition. Mike's paper "Improving the Reliability of Commodity Operating Systems," describing work supervised by UW CSE faculty members Brian Bershad and Hank Levy, was forwarded by ACM SIGOPS as the best student paper at the 2003 ACM Symposium on Operating Systems Principles.
Also at the ACM Awards Banquet, 2002 UW CSE Ph.D. alumnus AnHai Doan -- now an Assistant Professor of Computer Science at the University of Illinois -- received the 2003 ACM Doctoral Dissertation Award, which recognizes the top doctoral dissertation in the nation in computer science and computer engineering.
UW CSE professor Ed Lazowska is one of 5 University of Washington faculty among 178 new Fellows elected to the American Academy of Arts & Sciences.
"The University of Washington is giving him a chance to fulfill his dreams through biomedical informatics -- using computers to share medical expertise and help patients throughout the world. 'This way, I can make a difference in lots of peoples' lives, both doctors and patients,' said Rahmedov, who works part time for the UW while earning a computer science degree."
UW CSE search innovations highlighted in Seattle Weekly (May 2004)
"As Microsoft and Yahoo! prepare take on Google, Seattle and UW continue to be a hotbed of Web-search innovation." A Seattle Weekly interview with UW CSE's Oren Etzioni.
CSE's Richard Ladner is profiled in University Week: "It's not surprising Ladner would be passionate about sign language. He still remembers the emotional day he went home and used the language with his parents for the first time. 'It cemented a bond between us that hadn't really been there before,' he said."
Business Week profiles UW CSE Ph.D. alumna Francine Berman. "As director of the San Diego Supercomputing Center, Francine Berman is on the cutting edge of several disciplines -- and loving it."
A Puget Sound Business Journal interview with UW CSE's Ed Lazowska:
"'Wherever technology flourishes, one or more research universities are the anchor.' He notes that while technology transfer is an important role that universities play, the No. 1 contribution is 'the people they graduate.' Lazowska calls public universities 'engines of opportunity for the kids who attend them.'
"'What a research university can uniquely do is develop cutting-edge programs for the most highly-motivated, best-qualified students in the state. We tell Washington's top high school students that, while they may have various reasons for wanting to go out of state for college, getting one of the nation's best computer science or computer engineering educations is not one of them! They can do that right here at UW. As citizens, we owe this sort of opportunity -- this sort of future -- to the children of our state.'"
New Scientist describes KnowItAll, a search engine under development at the University of Washington by professor Oren Etzioni. In response to a query, KnowItAll collates information that is distributed across multiple web pages.
UW CSE's interdisciplinary program in computer animation is the cover story of the Spring 2004 issue of Northwest Science & Technology. "One of the great things about being at a university like this is you have a diversity of strong programs, which makes a program like this possible."
UW CSE professor Ed Lazowska is one of 5 University of Washington faculty among 178 new Fellows elected to the American Academy of Arts & Sciences. The Academy was founded in 1780 by John Adams, James Bowdoin, John Hancock, and other scholar-patriots "to cultivate every art and science which may tend to advance the interest, honor, dignity, and happiness of a free, independent, and virtuous people."

WebCrawler, the first successful full-text web search engine, was designed by UW CSE graduate student Brian Pinkerton, and went live on April 20, 1994.
Coached by CSE and Business School faculty member Emer Dooley, the University of Washington team bested teams from the University of Chicago, Cornell, MIT, Notre Dame, the University of Texas, the University of Virginia, and Wharton.
"It's time for the people of Washington state to recognize that their future will be determined much more by UW, Washington State University and the other educational institutions than by Boeing, Microsoft, Starbucks, Nordstrom's, Amgen and all of the other outstanding corporations operating here."
UW releases NSF-sponsored Fluency with Information Technology online course (March 2004)
BeneFIT is an online, self-paced version of UW's Fluency with Information Technology course (CSE 100 / Info 100). Developed with funding from the National Science Foundation, BeneFIT is a free course for motivated people to upgrade their computer and information technology knowledge.
Find out more about Fluency, or check out BeneFIT -- there are no prerequisites (if you got to this site you know enough to get started) and it's completely free!
UW CSE Professor Lawrence Snyder literally "wrote the book" on Fluency with Information Technology -- chairing the National Research Council study committee that issued a landmark report, devising a curriculum based on the report's findings, and writing a text to support the curriculum.
The Goldwater Foundation Scholarship Program was designed to foster and encourage outstanding students to pursue careers in the fields of mathematics, the natural sciences, and engineering. The Goldwater Scholarship is the premier undergraduate award of its type in these fields. Of the 310 scholarships awarded nationwide in the 2004 competition, 12 went to students majoring in computer science.
"Researchers have built two new systems that use radio frequency identification tags to monitor the elderly in their own homes ... 'The portable reader for the Caregiver's Assistant can be switched on and off by the wearer,' said Intel researcher Sunny Consolvo. 'The person wearing it is in full control of whether they want to be monitored at any given time.'"
The Caregiver's Assistant is part of the at Intel Research Seattle.
"Don Patterson, at the University of Washington and an Intel intern, points out that RFID tags ... will soon be present on most objects ... 'It's just a question of whether we use them in some way that benefits the consumer as well as the shop owner,' he says."
"The question is whether we can build systems that are smart enough, flexible enough and reliable enough to replace human caregivers," Kautz said. "I'm confident that we can ..."
"So-called spyware normally piggybacks on to a computer with 'free' programs, such as some music or file-sharing software ...
"Spyware may record a user's keystrokes or web browsing activity for market research purposes. Or it may cause pop-up adverts to appear when a user is browsing the web. Some programs may even alter browsers settings to redirect to a particular search engine ...
"'Spyware is a real problem that is already affecting a significant portion of the population,' says Steven Gribble, who carried out the study with colleagues Stefan Saroiu and Henry Levy."
Gribble, Wetherall win CSE's 11th and 12th Sloan Research Fellowships (February 2004)
CSE faculty members Steve Gribble and David Wetherall have been named winners of 2004 Sloan Research Fellowships. Gribble and Wetherall are CSE's 11th and 12th Sloan Research Fellowship recipients. Three CSE adjunct faculty also are Sloan recipients.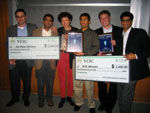 Emer Dooley, cross-appointed between CSE and the Business School, coached a team of 5 students to first place in the Western Division of the National Venture Capital Investment Competition. The UW also won the "entrepreneur's choice" award, which was given to the team the judges said they would most like to work with. It was the first time in the seven-year history of the competition that a team has won both first prize and the entrepreneur's choice award.
"Craig Overhage, vice president of the Instruments Business Unit at Tektronix, said the company was pleased to be able to contribute the much-needed equipment. 'Education has been and remains a top priority for Tektronix,' he said. 'The instrumentation in these labs will enable students at the University of Washington to gain valuable experience that will help to prepare them for positions in the industry upon graduation.'"