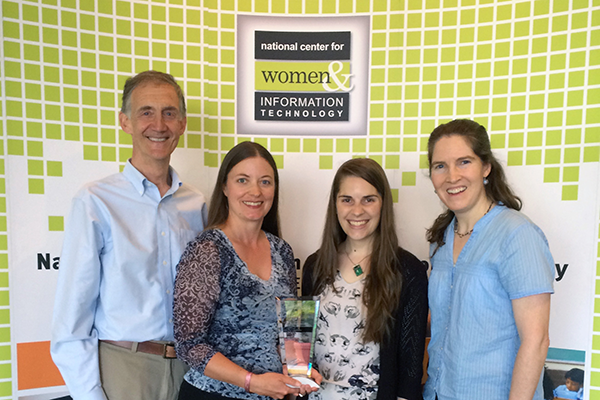 The Paul G. Allen School strives to measurably improve our region and our world through leadership in education, research, partnerships and community outreach. Our faculty, staff and students embrace opportunities to engage with diverse constituencies through a variety of outreach efforts, including programs for K-12 educators and students, industry partners, and alumni. We are committed to increasing diversity in our field through activities designed to broaden participation by women and other underrepresented groups. We invite you to learn more about the Allen School' activities to support academic excellence, increase community engagement, and expand economic opportunity within our school, across the campus, and in the broader community.
A commitment to diversity and inclusion is a fundamental part of our mission as a public educational institution. The Allen School strives to create a welcoming and inclusive environment for people of all backgrounds. Our faculty, staff, and student body are diverse in race, ethnicity, national origin, sex, gender identity, religion, sexual orientation, ability/disability, age, socioeconomic background, academic experience, veteran status, and more. Learn about our commitment to broadening participation in our program and in our field.
The DawgBytes program ("A Taste of CSE") is the cornerstone of CSE's K-12 education outreach and is aimed at introducing both students and teachers to the exciting world of computer science. We organize summer day camps for middle and high school students, with an emphasis on engaging more girls in computer science education; we partner with Rainier Scholars to teach computer science to students of color; and we host CS4HS, an annual summer workshop to help middle and high school teachers to incorporate computer science in their classrooms.
The main objective of the Allen School's Industry Affiliates Program is to support the mutual needs of industry and academia in computer research, development, and education. The program fosters technical exchange and collaboration, and also enables industry employers to connect with Allen School students through career fairs and other appropriate recruiting mechanisms.
The Allen School is proud of our alumni, and we strive to provide our graduates with meaningful ways to engage with faculty and students as well as with each other, including talks and events, mentorship opportunities, and social networking. We also recognize alumni who exemplify excellence and service through our annual Alumni Achievement Awards.
Other Outreach Activities
CSE Programs
UW Programs
Emerging Leaders: Under this program, two or three current CSE majors eat lunch with High School Emerging Leaders and then take them on a tour of Allen Center activities.
Gear-Up: For the past several years, we have hosted several Gear-Up summer institutes, where we run a Mindstorm Lego robot workshop.
Society of Hispanic Engineers: In 2008 we began an annual tradition of hosting a session for the SHPE Future Meets Present Conference, where Hispanic high school students are brought to campus to hear from local industry and participate in various hands on workshops.
Current CSE Majors
CSE Programs
Mentors

: We pair each new CSE major with a veteran CSE major during his/her first quarter in the department during the ACM Welcome Night. The veterans welcome our new students on a peer-to-peer level and show them the ropes.
Academic Support: Tutoring and other resources are available to CSE students who may need a little extra help.
Grace Hopper Conference: Each year we send staff, faculty, graduate and undergraduate students to the Grace Hopper Celebration of Women in Computing.
CSTA: We are a strong supporter of the Computer Science Teacher's Association. We encourage all of our Inspirational Teachers and CS4HS graduates to work with CSTA if they are teaching CS.
Other Higher Education
CSE Programs
Our Professional Master's Program, which serves professionals in Washington's information technology industry, enrolls approximately 150 students and graduates 50 students annually. The program makes extensive use of Internet-based distance learning to meet the needs of working professionals.
We work closely with Washington's community and technical colleges and develop online course materials, course equivalency certification, email boards to foster interaction, and transfer information.
Introductory programming studentsBrave New World, a course taught by CSE Professor Anna Karlin and designed for students with no programming experience, explores the intellectual underpinnings, societal implications, and grand challenges in computer science and related fields.
Women's Seminar: Designed for women taking CSE 142, our introductory programming course, this seminar provides a supportive environment in which students begin to build community and learn more about our department and the field of computer science.
Recruiting Receptions

: Twice a year we invite the top students in our introductory programming courses to learn about the department and go on tours with current majors.
UW CSE faculty participated in the design of the computer science curriculum for Ashesi University in Ghana. Ashesi University offers four-year bachelors degrees in computer science and business administration, based on a liberal arts core curriculum. The business administration curriculum was designed by faculty from the Haas School at Berkeley; the liberal arts core curriculum was designed by faculty from Swarthmore College.
UW Programs
Engineering Discovery Days: CSE participates in this annual event organized by the UW College of Engineering to highlight current research projects for the general public.
Industry
National Organizations
NCWIT: UW CSE is an active member of the National Center for Women & Information Technology (NCWIT). We are a coalition of more than 100 prominent corporations, academic institutions, government agencies, and non-profits working to increase women's participation in information technology. We have been designated an NCWIT "Pacesetter School" for our progress in increasing participation of women in the field. In 2015, the organization recognized UW CSE's efforts with its inaugural NCWIT Extension Services Transformation (NEXT) Award grand prize based on our demonstrated commitment to recruiting and retaining more women in undergraduate computer science.
NCWIT "Sit with Me" Campaign: Sometimes you have to sit to take a stand. We sit to inspire women in computing and IT. We sit to recognize the value of women's technical contributions. We sit to embrace women's important perspectives and increase their participation. Imagine designing technology that is as broad and creative as the people it serves.
BRAID: The BRAID (Building, Recruiting, And Inclusion for Diversity) initiative, established by Harvey Mudd College President Maria Klawe, seeks to help computer science departments increase the percentage of women in their undergraduate programs by following specific steps that have proven useful at more successful schools. UW CSE has been one of four original BRAID "Beacon Schools" – schools who have demonstrated success at increasing the percentage of women in their programs.
PNWGCP: The Pacific Northwest Girls Collaborative Project (PNWGCP) brings together organizations in Idaho, Oregon, and Washington that are committed to informing and motivating girls to pursue careers in STEM - science, technology, engineering, and mathematics.