An investment in the Allen School is an investment that can change the world
The Paul G. Allen School of Computer Science & Engineering is an engine of opportunity and innovation with a global reach. From life-saving mobile health tools, to battery-free systems that pull power from the air, to next-generation data storage in DNA, Allen School faculty and students think big in their quest for real-world impact. When you make a gift to the Allen School, you become our partner in educating the next generation of computer scientists and computer engineers, developing solutions to society's greatest challenges, and engaging with the community to enhance our region's and our nation's competitiveness.
Every gift matters! Your generosity — and that of many hundreds of alumni, friends, and companies large and small — enables us to offer an unparalleled education and research experience to our students, recruit and retain the very best faculty at the forefront of the field, and change the world through computing innovation.
Download our campaign brochure here!
Partner with us to produce game-changing innovations through Allen School endowments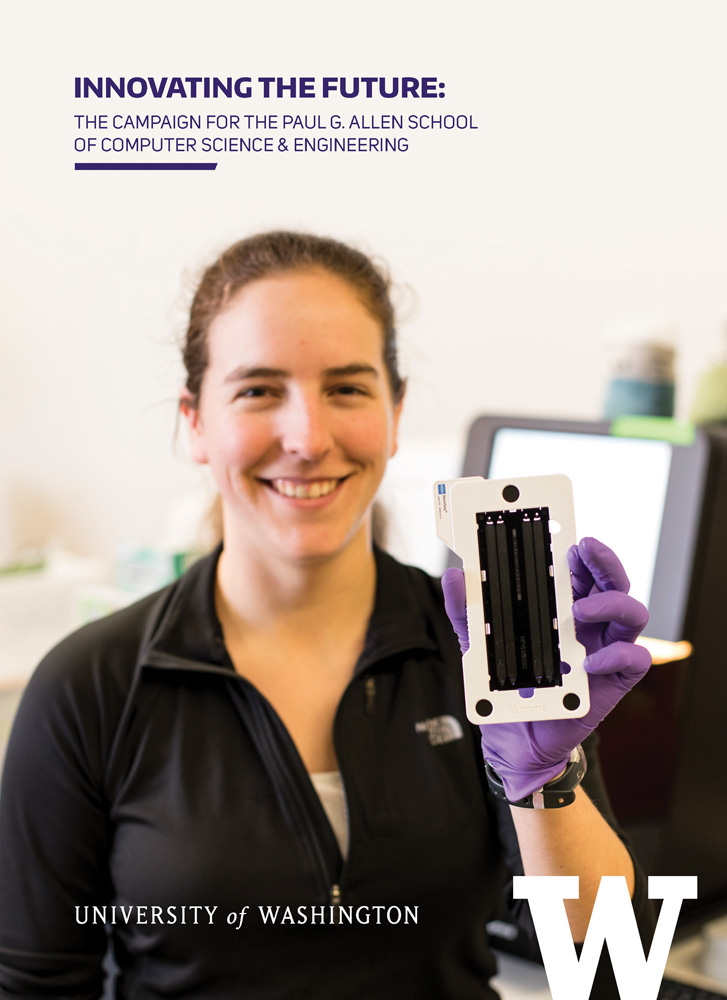 A gift to an endowment is a permanent gift to the Allen School. The principal is invested, to grow over time, while the annual income provides a reliable stream of support to help us achieve our missions of education, research and engagement.
Donors who contribute to an endowment create a lasting legacy - an investment in the present and the future. Because endowments provide a never-ending source of income, donors have the satisfaction of knowing that they are investing in the Allen School's mission while ensuring that their own philanthropic goals are met.
Endowments support faculty excellence (through Chairs and Professorships), graduate and undergraduate student excellence and access (through Fellowships and Scholarships), and broad innovation and leadership (through endowments that may be directed towards any high priority need).
Creating additional Endowed Professorships to assist in recruiting and retaining extraordinary faculty is our top priority! Learn more about endowment giving here.
Empower our people through the Allen School Annual Fund
Contributions to our Annual Fund are expended rather than invested, providing immediate support for the people who make the Allen School a world-class center of computer science and computer engineering education, research and engagement, and putting an Allen School education within reach of more students.
Faculty excellence: Recruiting and retaining the finest faculty
Graduate student excellence: Competing for the strongest graduate students
Undergraduate student excellence: Enabling Washington's most outstanding high school students to attend the Allen School
Innovation and leadership: Facilitating special initiatives in education, research and engagement
Learn more about our annual fund priorities here.
The Bill & Melinda Gates Center opened in January 2019!
We are in the people business, but people need facilities. Our wonderful home since 2003, the Paul G. Allen Center for Computer Science & Engineering, had become full to overflowing. An additional building, the Bill & Melinda Gates Center for Computer Science & Engineering, opened in January 2019. Named in honor of the couple through a gift from Microsoft and a group of the Gateses' longtime friends and colleagues, the Gates Center provides sufficient space for our school to double enrollment. Our deep thanks to all who supported this project!
Fifty years after Paul Allen and Bill Gates roamed the University of Washington campus as high school students, seeking access to state-of-the-art computers, the Paul G. Allen School of Computer Science & Engineering is housed in adjacent state-of-the-art buildings: the Paul G. Allen Center for Computer Science & Engineering, and the Bill & Melinda Gates Center for Computer Science & Engineering. It has come full circle!
Ways to give
Your gift to the Allen School is tax deductible - you will receive a receipt from the University of Washington Foundation, EIN 94-3079432.
You can make a secure gift online using your credit card (there is a search function, but not all funds are listed online)
You can transfer a gift of stock (special tax advantages apply to gifts made by transferring appreciated securities)
You can give from a donor advised fund
You can make a wire transfer
You can send a check (to Marzette Mondin, Box 352180, Seattle WA 98195-2180)
You can perhaps obtain a corporate match - complete instructions are available for employees of many major companies
If you need additional information or would like assistance in making your gift, contact Ed Lazowska, Professor, and Bill & Melinda Gates Chair emeritus, in the Paul G. Allen School,
lazowska (at) cs.washington.edu
, or Marzette Mondin, Director of Advancement in the Paul G. Allen School,
marz (at) uw.edu
.
Thank you for supporting the Paul G. Allen School of Computer Science & Engineering at the University of Washington — together, we WILL change the world!