About the Ambassadors
Allen School Ambassadors conduct CSE outreach to K-12 students, both on the UW campus and through school and community visits, especially focusing on students from underrepresented backgrounds and students without CSE experience.
Meet Our Ambassadors
As the main point of contact for high school students interested in applying to the Allen School, any prospective high school students can email us with any questions at outreach@cs.washington.edu. We encourage you to read the ambassador bios below and mention in your email any ambassador(s) that you resonate with and would like to personally talk to. Otherwise, any member of our team will reach out to you soon!
Abselom Sultanu (he/him)
Hometown: Des Moines, WA
Computer Science Major
What's up, everyone! I'm Abselom and currently a sophomore in Computer Science. I came into the University of Washington with zero experience in coding. Ever since I was a kid, my parents would always say that I should grow up to become an engineer, and I never gave it much thought until they decided to purchase our first computer back in 2012. I spent my first year exploring many concepts in Computer Science and started a couple of projects to see what I enjoy. The reason I became an ambassador was because of one of my high school mentors. She provided me with so much information, I feel selfish keeping it to myself. I know there's a lot of people who share similar backgrounds as I do that don't have access to the support I had, so I want to give them everything that I've learned. Outside of CSE, I play basketball with friends, spend time with my family, and watch a lot of shows and movies on Netflix.

Chris Kang (he/him)
Hometown: Richland, WA
Computer Science, Economics, Mathematics Major
Heyo - I'm Chris. I'm a junior majoring in CS, Econ, and Math. Why am I in three majors? I'll be honest: some days I'm not sure if I was meant to be a CS major. But, I've realized that CS thinking is applicable across fields: being able to break down problems and build solutions is immensely empowering. I may not love coding, but I love knowing that I can tackle any problem.
In the future, I hope to help others, though I'm not sure how (yet!). Out of class, I read books (from many genres), hang with friends, and feed my addiction to fizzy water.
Eman Mustefa (she/her)
Hometown: Federal Way, WA
Computer Science Major
Hello! I'm Eman and am currently a sophomore. Before entering college, I had absolutely no programming experience other than doing a couple of "Hour of Code" days in classes. I knew that technology and computers interested me and I also enjoyed the "Hour of Code" that I had done, so I took a shot in the dark and put computer science down as my intended major while applying to colleges and got in. As a first generation college student, I had no idea what to expect from college or computer science either and was able to learn through experience. I hope to be able to share my experience and assist those from similar backgrounds, through being a teacher's assistant, the ambassadors program, and an officer of GEN1, a club for first generation Allen School students. Outside of CSE, I am involved in the Associated of Students of the UW and watching Netflix, my recent favorites have been The Office and The Crown. Let me know if you have any good shows to watch, I'm always up for a recommendation!
Ermian Wei (she/her)
Hometown: Nanjing, China
Computer Science Major
Hey! I am Ermian! I am currently a junior studying computer science. I am also an international student coming from China! I came to UW with an intention to major in business, but I was not so sure about my choice. Therefore, I took my freshman year exploring all kinds of classes I am interested in, and found the fun in programming and CS. I like the challenging and rewarding feelings that programming bring to me. The reason I decided to become an ambassador is that I want to help to make CS education resources more accessible and inclusive. I love cooking and watching thrillers when I have some time to spare. So if you have any recipes you want to try out or any thrillers recommendation, let's be friends!
Esther Chien (she/her)
Hometown: Seattle, WA
Computer Science Major, History Minor
Hi, I'm Esther! I'm a senior majoring in computer science. When I was little, I wanted to be an astronaut or a food critic. It wasn't until my first year in college that I began to entertain the possibility of studying computer science. I was so captivated by the problem-solving nature of CS and its wide breadth of applications that I declared it as my major. As an ambassador, I aspire to increase the awareness of CS among younger generations and promote diversity within the field. I've also been a teaching assistant for the introductory programming series, hoping to inspire more students from a non-tech background to pursue CS. In my free time, I enjoy playing violin, watching nature and history documentaries, and playing Tchaikovsky on the violin.
Hristo Ramirez-Diaz (he/him)
Hometown: Tukwila, WA
Computer Engineering Major
Hey everyone, I'm Hristo! One of my first experiences with CSE was in my high school physics class. I got to play with a couple of brand new Arduinos to make an "electric art" piece. I still laugh to myself whenever I remember the display I made with my friends. I'm interested in using Augmented/Virtual Reality to create new experiences and educational tools. I became an ambassador because I want to support underrepresented students interested in the world of computing. Outside of CSE, I like photography, listening to music, and going on walks with my dog.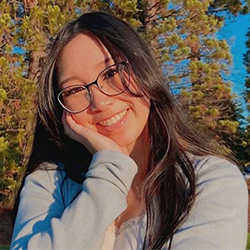 Lynn Nguyen (she/her)
Hometown: Burien, WA
Computer Science Major, Informatics Minor
Hello! I'm Lynn and I am a sophomore majoring in Computer Science with a minor in Informatics. Even though my middle school and high school did not offer any computing courses, I discovered my interest in programming in high school through experimenting on Scratch and exploring the field on my own. I became an ambassador because I want to help more students like me receive earlier exposure to computing and to also help close the gender and race gap within the field. As a first-generation college student, I am also passionate about increasing college access and am involved with college mentorship in Hey Mentor outside of CS. In my free time, I like to draw, play the piano, binge new anime, and go on food adventures in Seattle with my friends. If you have any questions, feel free to reach out, especially if you're new to computing!
Neha Jagathesan (she/her)
Hometown: San Jose, California
Computer Science - Data Science Major, Education, Learning, & Society Minor
Hi everyone! Neha here! I first heard about Computer Science through an introductory programming course at my high school, and have been coding ever since. I come from a really tech heavy area of California, and didn't really feel like I belonged in technology until I found my interests in college. I'm interested in the applications of machine learning to social issues such as educational equity, racial health disparities and climate control. Other than CSE, I play club volleyball here and in the past I've worked with the Dream Project and Pipeline project. I am passionate about my South Asian heritage and what it means for me as an engineer. I love fashion, discovering new authors and books, and being outside! I am an ambassador because I believe that a valuable education is a right, not a privilege. Feel free to reach out to me with any and all questions.
Savvy Gupta (she/her)
Hometown: Fremont, California
Computer Science Major
Hey everyone! My name is Savvy! I grew up in the Bay Area in California. I really had no interest in computer science until I had the opportunity to learn more about programming through Girls Who Code in high school. I realized that there was room for computer science in almost every field - from education to biology to political science. I joined the Ambassador team because I want to share what I've learned with more people, and ensure that technology becomes a more inclusive field. We need people of all backgrounds in order to make technology that works for users of all backgrounds :) Outside of CS, I enjoy reading, drawing, and playing music! Feel free to reach out if you have any questions or if you'd just like to chat!
Simplicio DeLeon (he/him)
Hometown: Harrah, WA
Computer Engineering Major, Dance Minor
Hi everyone! My name is Simplicio and I'm a senior in Computer Engineering. I come from a small town in Central Washington called Harrah. I developed an interest in technology by doing robotics in my high school science club where I started off as the team programmer and eventually did both programming and design. I enjoy programming projects but have the most fun playing with sensors and hardware. I became an ambassador because I love volunteering in education and I want to share opportunities to help make the tech field more accessible and diverse. Outside of the tech and academic worlds I love to dance and explore the great outdoors.
Tara Sirosh (she/her or any gender neutral pronouns)
Hometown: Bellevue, WA
Computer Science Major
Hey everyone, I'm Tara! I'm currently a sophomore in the Allen School. I began exploring computer science when I joined my high school's robotics team. However, I wasn't really sure I wanted to pursue CS until my senior year of high school, when I began to learn about how intersectional it can be. I'm still learning about the many different pathways computer science offers, and I want to share that knowledge with as many people as I can! I joined the ambassadors because I want to make computer science easily accessible to underrepresented populations and make the tech community more inclusive as a whole. Outside of CSE, I play the occasional piano, love to read, and am involved in the South Asian Student Association here. I also love to bake, and I'm always looking to expand my book collection so reach out to me if you have any recommendations or questions!
What We Do
We represent the Paul G. Allen School of Computer Science & Engineering in K-12 outreach and recruitment efforts. Below is a brief highlight of what we have done in the past year!
Workshops
We host several 3-4 hour long workshops on Saturdays throughout the school year at the Allen Center that are free for participants. These workshops are typically an introduction to programming for students with little to no experience. If you are interested in attending a workshop, sign-up for our newsletter here to hear when registration opens.
We currently offer four (4) workshops:
Scratch: Scratch is a drag-and-drop programming language catered towards elementary and middle school students. We offer both Introductory Scratch for students without programming experience, and Advanced Scratch for students with some programming experience.

Processing: Processing is a text based programming language typically for older middle school and high school students. We offer both Introductory Processing for students with little programming experience, and Advanced Processing for students with some programming experience
Activities
We have several small-scale "portable" activities that can be tailored to a variety of environments. These activities are best for temporary spaces such as STEM nights and open houses, and are typically an introduction to computer science concepts.
School Visits
We offer events such as career and student panels, workshops, and info sessions that can be held at local high schools. If you would like to contact someone about hosting an event at your school please email outreach@cs.washington.edu with your name, position (student, faculty, admin, etc.) school, and type of event you would like us to host.
Tours
Throughout the school year we offer tours of both the Allen Center and the Bill and Melinda Gates Center for groups of all sizes. If you are interested in seeing our facilities, submit a tour request through our Tour the Allen School page.