---
In 2006....
---
"With 32 wires sprouting from a cap on his head, University of Washington research assistant C.J. Bell stared at a computer screen and thought: 'Red.' Across the room, a 2-foot-tall robot called Morpheus shuffled up to a table holding a green block and a red block. Tilting his head, the machine scanned the choices with camera 'eyes.' Morpheus paused, then picked up the red block."
The Seattle Times covers CSE professor Raj Rao's research concerning robots controlled by electroencephalography (EEG). "The novelty here is that we're connecting non-invasively to a humanoid robot,' Rao explained."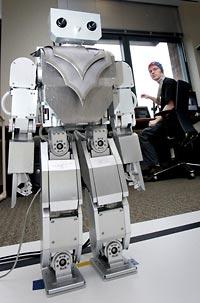 UW press release here.
LiveScience here.
Science a gogo here.
Science Daily here.
The Motley Fool here.
Science Daily here.
Engadget here.
Coolest Gadgets here.
Gizmodo here.
G1 Organizagues Globo (Brazil) here.
China here and here.
"Biotech has been a little disappointing lately, from an economic-development perspective ... We could use some uplifting news from the sector, and it may be coming from the University of Washington ... With help from several newcomers, the engineering and medical schools are trying to create a world-class neuroengineering research center that could raise the school's profile in the emerging field of brain-powered robotics ... Efforts to create a center gained momentum in late summer when the computer-science department hired a star robotics researcher, Yoky Matsuoka, founder of the Neurobotics Laboratory at Carnegie Mellon University in Pittsburgh. She came to the UW while her husband, a computer-vision expert, was lured by Microsoft Research."
MSDN Channel9 interviews UW CSE alumnus and Microsoft Corporate Vice President Rob Short.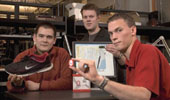 Wired reports on new research by UW CSE faculty member Yoshi Kohno and students Scott Saponas, Carl Hartung, and Jonathan Lester.
"If you enhance your workout with the new Nike + iPod Sport Kit, you may be making yourself a surveillance target. A report from four University of Washington researchers to be released Thursday reveals that security flaws in the new RFID-powered device from Nike and Apple make it easy for tech-savvy stalkers, thieves and corporations to track your movements. With just a few hundred dollars and a little know-how, someone could even plot your running routes on a Google map without your knowledge ...
"[Kohno] hastened to add that he doesn't believe Apple and Nike purposefully designed the sensors to be surveillance-friendly. 'I just think companies should be as aware of privacy issues as they are of safety issues,' he said. 'Too often, they aren't.'"
NPR story here (good stuff begins at 4:20)
Seattle Times story here.
Seattle PI story here.
BBC News here.
UW press release here.
Read about the research here.
UW CSE undergraduates Ben Hindman, Daria Craciunoiu, and Robert Carroll are among 68 students from across North America who have been recognized in the 2007 Computing Research Association Outstanding Undergraduate Award competition. Ben was named a Finalist. Daria and Robert received Honorable Mention.
UW CSE Ph.D. alumnus Wen-Hann Wang has been named Vice President, Software and Solutions Group, and General Manager, Software and Solutions and Product Development, China, for Intel Corporation. Wen-Hann received his Ph.D. from UW in 1989, working with Jean-Loup Baer.
UW CSE professors Susan Eggers and Henry Kautz have been named Fellows of the American Association for the Advancement of Science. AAAS is the world's largest general scientific society. Founded in 1848, it includes some 262 affiliated societies and academies of science serving 10 million individuals and is the publisher of the journal Science. CSE professor Ed Lazowska also is a Fellow of AAAS.
UW CSE startup Farecast named "Top 100 Innovation" by Popular Science (November 2006)

Farecast, the UW CSE startup created by professor Oren Etzioni that attempts to predict whether airline prices will go up or down, has been named by Popular Science as one of the top 100 innovations of the year. Farecast was named as one of the "Top 50 Coolest Web sites of 2006" by Time magazine this summer.
On November 21 2006, UW CSE hosted an "Art Walk" to celebrate the Allen Center art collection, to thank those who made it possible, and to inaugurate Erwin Redl's "Nocturnal Flow" installation in the Atrium.
"Finn MacCool's is a popular Irish bar near the University of Washington where college kids occasionally gather to sip a Guinness or sing karaoke. But on Oct. 8, a group of about 20 UW students were lured to the pub for another reason. They were there to get a sneak peek at a new social networking service from a Seattle startup called Ripl ...
"Ed Lazowska, a UW computer science professor, agrees that it makes sense for social networking and other consumer-oriented services to target college students. Microsoft Chief Software Architect Ray Ozzie just brought up the topic in a talk last week in one of Lazowska's classes. 'He actually doesn't think you can build a successful social networking site unless you yourself are part of the target demographic,' said Lazowska. 'At the very least, you have to test it on the target demographic.'"
"Farecast rolls out 'insurance' on airline price hikes -- Company offers to pay consumers if its online fare predictions are wrong ... The startup, which has attracted press attention from The New York Times and Time magazine, was created by University of Washington computer science professor Oren Etzioni in 2003 after he began thinking about the various prices that people paid on a flight to Los Angeles. It is backed with more than $7 million in venture funding from Greylock Partners, Madrona Venture Group and WRF Capital."
"One example that hints at the potential of such systems is KnowItAll, a project by a group of University of Washington faculty members and students that has been financed by Google. One sample system created using the technology is Opine, which is designed to extract and aggregate user-posted information from product and review sites.
"One demonstration project focusing on hotels 'understands' concepts like room temperature, bed comfort and hotel price, and can distinguish between concepts like 'great,' 'almost great' and 'mostly O.K.' to provide useful direct answers. Whereas today's travel recommendation sites force people to weed through long lists of comments and observations left by others, the Web 3.0 system would weigh and rank all of the comments and find, by cognitive deduction, just the right hotel for a particular user.
"'The system will know that spotless is better than clean,' said Oren Etzioni, an artificial intelligence researcher at the University of Washington who is a leader of the project. 'There is a growing realization that text on the Web is a tremendous resource.'"
"Imagine a world where you could communicate fluently with your computer at work, and play with someone across the world without knowing his language. The Turing Center, a multidisciplinary UW center founded in 2005 with a multi-million dollar grant from the Utilika Foundation, aims to make such science fiction a reality."
"A new startup formed by computer science professors at the University of Washington has raised money from Madrona Venture Group and WRF Capital.
"'We're not yet at the stage where we're publicly disclosing what we're doing,' said Steven Gribble, an associate professor in the UW Department of Computer Science & Engineering, who is leading the new company.
"Illumita's directors include Henry Levy, a co-founder of Performant and chairman of the UW's Computer Science & Engineering Department, and Brian Bershad, a computer science professor who previously founded Appliant.com in 1997."
More than 50 UW CSE faculty, students, alumni, and students of alumni gathered at a reunion held at the 2006 OSDI conference in Seattle on November 6.
"The College of Engineering will remember former dean Denice Denton in a memorial ceremony today ... 'I think she arrived at UW without a huge amount of experience, but she had all the right instincts -- she knew what to do to build a better College of Engineering,' said Ed Lazowska, the Bill & Melinda Gates chair of Computer Science & Engineering ... 'It's wrong to think of her as just diversity-focused ... she was really focused on building a better environment for everyone. She was really gutsy. If you were trying to do the right thing, she would support you in every way.'"
The Autumn 2006 issue of UW's Trend in Engineering features articles on UW CSE startup Farecast, and on CSE's Photo Tourism research project, commercialized by Microsoft as Photosynth.
Brier Dudley reports on UW CSE's annual Industrial Affiliates meeting. "I heard demonstrations in rooms crowded with representatives from Microsoft, Intel, Sun Microsystems, F5, Cray, Marchex and various venture-capital firms and other companies."
CSE graduate student Anna Cavender received the Best Student Paper Award at ASSETS 2006 for her paper "Intelligibility of sign language video as constrained by mobile phone technology." Cavender works with faculty members Richard Ladner and Eve Riskin, who co-authored the award-winning paper. MobileASL is a video compression project with the goal of making wireless cell phone communication accessible to Deaf people through the use of video phones and sign language. The challenge is to provide video phone capability on the low bandwidth cell phone network and with the limited processing power of cell phones.
CSE alum Brett Newlin named USRowing Athlete of the Year (October 2006)
UW CSE computer engineering alumnus (and Husky Crew alumnus) Brett Newlin has been named "2006 Male Athlete of the Year" by USRowing. Earlier this year, Newlin stroked the men's four to a fourth-place finish at the 2006 FISA World Championships, which was the top U.S. finish in the event since 2001. Newlin went on to race in the men's eight that won the 2006 E.ON Hanse Cup, a 12.7 kilometer long-distance race held in Germany. Newlin, a two-time national team member, also won the men's pair at both the second and third USRowing National Selection Regattas.
"Summarizing Personal Web Browsing Sessions" wins Best Student Paper Honorable Mention Award at UIST 2006 (October 2006)
CSE graduate student Mira Dontcheva presented her work on "Summarizing Personal Web Browsing Sessions" at UIST 2006 and received the Best Student Paper Honorable Mention Award. Dontcheva works with UW CSE faculty member David Salesin and Microsoft researchers and UW CSE affiliate faculty members Michael Cohen and Steven Drucker, who co-authored the award-winning paper. Their research on creating visual summaries of web content attempts to make the web more accessible for everyone. The challenge lies in effectively automating both the collecting and organizing of many different types of information so that users can remain abreast of the growing amount of web content.
"Retrievr sifts through photographs stored in Yahoo's Flickr database by using mouse-powered doodles as its search criteria. Visitors use a basic sketchpad and color palette to craft a tree, a shoe, a house -- and Retrievr returns photos that match ... Retrievr's search algorithm is based on a 1995 research paper written by [UW CSE's] Chuck Jacobs, Adam Finkelstein and David Salesin ..."
"The Good Fight" (Washington CEO) (October 2006)
Washington CEO on Microsoft.
"Microsoft has suffered in recent years from increased competition and a weak stock price. The company is drawing from its huge treasury to fight back. In doing so, it's giving a big boost to Washington's economy ...
"The University of Washington's computer science department has been a huge beneficiary, with 75 percent of the $42 million it raised for its new building coming from Microsoft or those who amassed their fortunes there. 'There is an enormous, incalculable impact,' says University of Washington computer science professor Ed Lazowska, holder of the Bill & Melinda Gates chair. 'Microsoft is our present and future.' For his department, Microsoft serves as an eager employer of graduates, a research collaborator, and a supplier of talented people interested in teaching courses."
"Washington's Big Brain Deficit" (Washington CEO) (October 2006)
Washington CEO on Washington's education system.
"'We're no higher than 36th in this country in production of [college] degrees,' fumes Bob Drewel, who heads Prosperity Partnership ... 'We're fighting complacency. People think that we can continue to do business as we always have and continue to prosper. I'm here to tell them that they're wrong.'"
"Microsoft celebrated the 15th anniversary of its in-house computer science research effort this month, calling it critical to the future of its business.
"'The reason we have Microsoft Research is so Microsoft will still be here 10 or 15 years from now,' Rick Rashid, the senior vice president who heads Microsoft Research, said Tuesday.
"'Microsoft is almost unique in its investment in research that looks out 5, 10, 15 years,' said Ed Lazowska, Bill & Melinda Gates Chair in Computer Science & Engineering at the University of Washington. 'Name your favorite multibillion-dollar IT company, and for the most part they do none of that.'"
"Where'd the Whiz Kids Go? High Tech Jobs Go Begging" (Pacific Northwest Magazine / Seattle Times) (September 2006)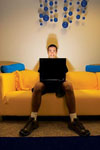 Pacific Northwest Magazine / Seattle Times discusses the enormous opportunities in computer science, and the lack of capacity in the state's higher education system. Many UW CSE students are featured.
"When Seattle looks in the mirror, it sees Bill Gates looking back: a city that's geeky smart, entrepreneurial, socially compassionate and on the cutting edge of technology ...
"In a third floor computer lab at the University of Washington, juniors and seniors taking a computer animation course are studying their creation ... Some of the students thrive on the technical challenges; others focus on the artistic elements. The capstone course is aimed at giving students some practical experience in what has become one of the frontiers in computer science ...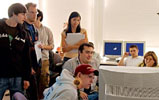 "'It's like you're always on the edge of the new thing,' [student Maxine] Toh says. 'You're able to help people by making life a bit easier ...'
"Right now, a UW student with a bachelors degree in computer science can expect to make $75,000 in his or her first year. Top students are also being routinely hired with $20,000 signing bonuses ...
"'This is an important time in state history. There's been this economic success and dynamism,' [Microsoft's general counsel Brad] Smith says. 'Do we build on that and make it sustainable, or do we see our moment in the sun slip away?'"
"A Picture Perfect Marriage" (September 2006)
Microsoft Live Labs describes UW's involvement in their new Photosynth product. "About six months ago, a Microsoft researcher, a Ph.D. student, and a University professor invented a new photo browsing technology called 'Photo Tourism.' The technology was so cool that anyone who saw it wanted to be part of the project. Noah Snavely, a student at the University of Washington (UW), had single-handedly coded a rich prototype under the joint supervision of Steve Seitz (also from UW) and Rick Szeliski from Microsoft Research (MSR) ..."
All Things Considered tackles RFID privacy, and interviews CSE's Gaetano Borriello. (Borriello segment begins at 3:35.)

We in UW CSE started referring to UCSD CSE as "UWSD" back in 2001, when Ed Lazowska spent a year on sabbatical with the six UW CSE alumni then on the UCSD CSE faculty. (See a photo from those days here.)
As of autumn 2006, nine UW CSE alumni have joined the UCSD CSE faculty, and the reverse flow has begun, with UCSD CSE Ph.D. alumnus Yoshi Kohno joining the UW CSE faculty. The photo (a composite -- too many people to ever be in the same place at the same time!) shows UW CSE alumni / UCSD CSE faculty Fran Berman, Steve Swanson, Geoff Voelker, Dean Tullsen, Bill Griswold, Sorin Lerner, Stefan Savage, Amin Vahdat, and Brad Calder, plus UCSD CSE alumnus / UW CSE faculty Yoshi Kohno, wearing t-shirts bearing Yoshi's photo and the text "UCSD North -- Seattle Branch." (Additional photos of the group here.
UCSD SodaVision makes the TV news (August 2006)
OK, so it's not really UW, but it's our Ph.D. alumnus Stefan Savage and his students, building the world's coolest biometric vending machine. See the SodaVision project website here.
Says CSE graduate student Benson Limketkai: "But our prices are still a whole lot cheaper, not to mention the friendly faces that greet you when you shop at the benson store, the JeffStore, and sAnnawiches. BTW, why haven't YOU ever come to shop with us? You can see what the Lazowska Lunch (not affiliated with Ed Lazowska) is all about!"
"Professor Etzioni said that over lunch with the AOL researchers, he had mentioned that for his own research, he was interested in a data set containing queries starting with 'Wh,' to signify that a question was being asked. Such data need not be tied to an individual to be useful as a research tool. 'We build technology that answers questions,' he said. 'So we want to test it on actual questions people are asking.' The AOL researchers told Professor Etzioni they would get approval from the company and send him a compact disc containing the question set. But Professor Etzioni is not holding out much hope of receiving the data. 'I dont think that CD is in the mail,' he said, 'and that's too bad.'"
Photosynth, Microsoft Live Labs exciting product offering, is derived from software licensed from UW CSE.
"Using fare histories and computer technology developed at the University of Washington, Farecast makes what amounts to a well-educated guess about where a fare will go in the coming week based on the date and even time of day."
UW CSE alums at Google featured in Washington Engineer (August 2006)
The August 2006 issue of Washington Engineer features UW CSE alums working at Google. "Eleven members of the UW's 'Google contingent' at the Mountain View, CA, location pal around during an alumni event last year. Google is among top tech companies that regularly turn to the UW for computer science grads to fill their ranks."
"'If my goal was to maximize compensation, I would definitely be in the private sector. But having spent a year as the CTO of a public company and having worked with startups, I know that, while it's exciting and dynamic, there's no substitute for the intellectual stimulation of research and teaching.'" (Full series of University of Washington profiles here.)
UW ranked among "Top 25 Global Universities" by Newsweek (August 2006)
"In response to the same forces that have propelled the world economy toward global integration, universities have also become more self-consciously global: seeking students from around the world who represent the entire spectrum of cultures and values, sending their own students abroad to prepare them for global careers, offering courses of study that address the challenges of an inter-connected world and collaborative research programs to advance science for the benefit of all humanity. To capture these developments, Newsweek devised a ranking of global universities that takes into account openness and diversity, as well as distinction in research."
Time names Farecast one of 2006's "50 Coolest Websites" (August 2006)
Time Magazine has named UW CSE spinoff Farecast one of 2006's "50 Coolest Websites."
Farecast, founded by UW CSE professor Oren Etzioni, utilizes data-mining methods originally developed in CSE to predict how airfares will change over time. The original paper in KDD '03 was by Alex Yates, Etzioni, and two colleagues from USC. The program was initially called Hamlet -- "To Buy Or Not To Buy ... that is the question."
The UC San Diego computer systems research group celebrated the promotion of UW CSE Ph.D. alumnus Stefan Savage to Associate Professor with "Doc Savage -- Deadwood" t-shirts. Additional photos here.
The latest in a decade-long series of annual international research workshops. This year's will discuss how we can bring to end users the wealth of sensor data we are now able to collect from embedded as well as mobile sensors, the infrastructure and tools we will need to make this information searchable and visualizable by everyone, the challenges facing the construction of a search engine for the physical properties of places on our planet, and other topics ranging from the properties of the sensing devices all the way to end-user applications and all the networking, databases, and distributed systems in between.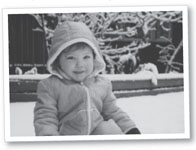 A full page recruiting ad in the Seattle Times features CSE alum Jennifer Maurer: "Google is looking for engineers with great aspirations. Take Jennifer Maurer, for example. Jennifer, who counts fluency in Spanish and a deft touch with horses among her prodigious talents, is a software engineer who works on Google Maps in our Seattle engineering office in Kirkland, Washington. Jennifer once dreamed of a career working outdoors with animals, and was a riding instructor at a summer camp for four years. And then an advanced placement computer science class she took in high school captured her imagination ..."
Photo Tourism / Photosynth (July 2006)
Microsoft Research promotes Photo Tourism / Photosynth, new technology resulting from a collaboration between Microsoft Research (Rick Szeliski) and UW CSE (Steve Seitz and Noah Snavely) presented during SIGGRAPH 2006. Microsoft Live Labs will offer Photo Tourism as Photosynth, a scalable, client-server prototype.
UW CSE Photo Tourism page
Microsoft Live Labs Photosynth page
BBC News article
CSE hosts Vertical Mentoring Workshop for the Blind (July 2006)
This three-day workshop will provide a venue for blind students and professionals in science, technology, engineering and mathematics (STEM) to get together to share their experiences and learn from each other how to maximize their chances for success. High school students will learn from college students, college students from graduate students and professionals, and graduate students from professionals.
Seattle PI article here.
"Etzioni's site Farecast.com ... provides the lowest fare on a route, a 90-day price history and, using a novel predictive algorithm, a tip to 'buy now' or 'wait,' along with a figure indicating how confident Farecast is in its advice."

The New York Times profiles Farecast, a startup created by UW CSE professor Oren Etzioni.
"You squeeze into your seat in the airliner, buckle up and then, against your best judgment, you start asking your seat mates what they paid for their airfare.
"That's what Oren Etzioni did on a flight in 2002 and he discovered that, of course, others paid less for their tickets. Even worse, said Mr. Etzioni, a professor of computer science and engineering at the University of Washington, 'they bought later than I did.'
"Mr. Etzioni, the brains behind such early Internet companies as MetaCrawler, a search engine, and Netbot, an online comparison shopping service, decided this was a situation computers could address. All he would need is a mountain of data to mine for information about seat supply and demand and an algorithm to predict how the airlines' algorithms were going to price those seats.
"A brief student project proved that, indeed, computers could be far more reliable than a Magic 8-Ball. So Mr. Etzioni helped to create Farecast, an airfare search engine that also predicts how much the price of an airline ticket will rise or fall over the coming days."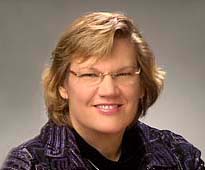 In 1990, under the leadership of Professor Richard Ladner, UW Computer Science & Engineering established an endowment to help support our commitment to a diverse student population. Fifteen years later, thanks to the generosity of faculty, staff, students, friends, and alumni who share this commitment, this endowment has grown to more than a quarter of a million dollars.
At Professor David Notkin's suggestion, CSE has named this endowment to honor Denice Dee Denton, Dean of Engineering from 1996-2005, who died tragically on June 24 2006. Denice was an inspirational leader, and a strong voice for social justice, diversity, and excellence. She possessed enormous measures of vision, courage, integrity, and backbone. An endowment supporting undergraduate and graduate Denton Scholars in Computer Science & Engineering will be a lasting tribute.
[Note that we are not seeking additional contributions. This endowment, which is in every way consistent with Denice's vision, exists and is fully funded. It is being named in Denice's honor. Those wishing to remember Denice at the University of Washington may support a new endowment being created in the College of Engineering.]
"Microsoft looks to academia" (Associated Press) (June 2006)
"Ed Lazowska, who holds the Bill & Melinda Gates Chair in computer science and engineering at the University of Washington, believes Microsoft's heavy educational investments reflect what he calls 'enlightened self-interest.' While Microsoft benefits from it, he said researchers who are able to use that involvement for everything from astronomy research to helping technology development in Third World countries do, too."
UW CSE Ph.D. alumnus Gerome Miklau wins 2006 ACM SIGMOD Dissertation Award (June 2006)
UW CSE Ph.D. alumnus Gerome Miklau, now an Assistant Professor at the University of Massachusetts, Amherst, has been named the recipient of the 2006 ACM SIGMOD Dissertation Award, for the most outstanding Ph.D. dissertation in databases during the past year. Gerome's dissertation, "Confidentiality and Integrity in Distributed Data Exchange," was supervised by UW CSE professor Dan Suciu.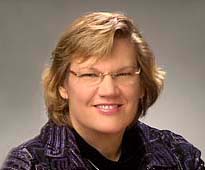 Denice Dee Denton, Chancellor of U.C. Santa Cruz and former Dean of Engineering at the University of Washington, took her own life in San Francisco on June 24. Denice stood by UW CSE at a time when we needed it badly. We will always be grateful for her vision, integrity, and backbone.
Seattle Times
San Francisco Chronicle
San Francisco Chronicle
Seattle PI
"eWEEK editorial scoured dozens of news stories, job reports and technology forecasts, crunched them all together with a dash of insight, and came up with the following 10 cities and their surrounding areas.
"1. Seattle ..."
"Which community boasts the highest concentration of brainpower -- and therefore can claim to be America's smartest big city?
"The answer is Seattle, according to a new study by Bizjournals.com ...
"San Francisco and Austin are the runners-up in the Bizjournals.com study, which ranks the relative brainpower of 53 large communities."
The "Most Influential PLDI Paper Award" is presented annually to the author(s) of a paper presented at the PLDI held 10 years prior to the award year. The papers are judged by their influence over the past decade. CSE professor Craig Chambers and his former students Jeff Dean and Dave Grove were honored for their 2005 paper "Selective Specialization for Object-Oriented Languages."
"Intel touts personal sensors for smarter PCs" (Vnunet.com) (June 2006)
"A research project by Intel and the University of Washington is using a set of eight sensors to collect data on ambient light, infrared light, body movements, sound volumes, air humidity and air pressure. The sensors allow the device to determine whether a person is walking, jogging or climbing stairs, for example."
At a June 6 gala, CSE recognizes faculty achievement and salutes donors and friends: Hank Levy, incoming department chair; David Notkin, Frank & Wilma Bradley Endowed Chair; Gaetano Borriello, Jerre D. Noe Endowed Professorship; Steve Gribble, Torode Family Endowed Career Development Professorship; Steve Seitz, Short-Dooley Endowed Career Development Professorship Susan Eggers, elected to the National Academy of Engineering.
Don't miss the graduate student skit from the December 2 holiday party, or the Food Olympics video! Ancient history here.
UW CSE Ph.D. alumna Gail Murphy, a professor at the University of British Columbia, has won the 2006 CRA-W Anita Borg Early Career Award. The award honors the late Anita Borg, who was an early member of CRA-W and an inspiration for her commitment in increasing the participation of women in computing research. The award is given annually by CRA-W to a woman in computer science who has made significant research contributions and who has contributed to her profession, especially in the outreach to women.
CSE's IDAT recognized in business plan competition (June 2006)
IDAT, the Institute for the Development of Access Technology, won the $5,000 Herbert B. Jones Best Nonprofit/Socially Responsible Idea award in the 2006 UW Center for Innovation and Entrepreneurship Business Plan Competition. IDAT is an outgrowth of CSE's Tactile Graphics Project, spearheaded by professor Richard Ladner. CSE graduate students Sangyun Hahn, Ethan Katz-Bassett, and Chandrika Jayant and CSE undergraduate students Dana Wen and Satria Krisnandi contributed to the business plan. Math major Zach Lattin was also a contributor. Dan Comden of the Access Technology Lab provided much technical guidance, and Fred Holt and Laura Dorsey of the Tech Transfer Office provided much strategic advice. Team leader was Mitch Berg from the Technology Management MBA Program with some help from Jon Lee of the same program.
"All the news that fits, we print."
A profile of UW CSE startup Farecast.
A profile of UW CSE startup Farecast.
for playing Warcraft. "Forget academic or pre-season football rankings, here are the Top 25 Schools ranked according to number of visitors to MapWoW."
"What if you could use the Internet to communicate with any person in any language? That's the lofty goal of a group of researchers at the University of Washington's Turing Center.
"The ... Center, which was established last May with funding from the Utilika Foundation of Seattle, the National Science Foundation, several United States military agencies, and support from Google Inc., [is] under the directorship of artificial-intelligence pioneer Oren Etzioni."

"Online retailing will continue to evolve and grow over the next 10 years, but it will not come close to overtaking sales at physical retail stores, Amazon.com founder Jeff Bezos told a group of more than 1,000 people from Seattle's technology industry Monday ... Bezos said that innovation has 'always been part of our DNA,' adding that it has led to breakthroughs such as 'search inside the book' and 'one-click shopping.' It is also a big reason why the company does not spend much money on advertising. Because the Internet has shifted power to the consumer, Bezos said it makes more sense to invest in great products and services. 'In the old world, perhaps the person with mediocre products and services could win if they were the best at shouting about those services,' he said. 'I think that will become an increasingly difficult formula as time goes forward.'"
See also Seattle Times, Seattle PI Venture Blog, Associated Press, Tacoma News Tribune.
"In the past 20 years Jeremy has had a hand in the startups of Aldus (acquired by Adobe), Visio (acquired by Microsoft) and now Trumba. New ways of working have sprung from his revolutionary products ..." Two of the four 2006 Diamond Awards -- presented at a May 5 banquet -- were won by CSE alumni.
"Millions of people satisfy their curiosity every day by using Jeff Dean's handiwork. Jeff has helped to develop and implement three generations of Google's Web crawling, indexing and query serving systems -- covering two and three orders of magnitude growth in number of documents searched, number of queries handled per second, and frequency of updates to the system." Two of the four 2006 Diamond Awards -- presented at a May 5 banquet -- were won by CSE alumni.
"So my entreaty to Dr. Marburger is, 'Spare me the commendations and show me the money,'" Lazowska said. "It's time for leadership and investment."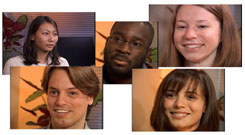 "A Day in the Life" describes the lives of three recent bachelors graduates from UW CSE, in three 3-minute segments. "Power to Change the World" presents clips from interviews with roughly a dozen UW CSE students, alumni, and faculty, explaining why they chose computer science as their field
CSE Bachelors alumnus Hakim Weatherspoon featured in Intel Tech News (April 2006)
"As it turns out, Weatherspoon has a long history with Intel. As a high school senior in the Portland area, the student received an Intel honors internship and spent his summers during college working at the corporation's microprocessor fabrication facilities in Oregon. Weatherspoon earned his undergraduate degree in computer science from the University of Washington. He then headed to Berkeley for his Master's and now Ph.D. Along the way, Weatherspoon married and started a family, so now juggles academic research with raising two young children ... On completion of his doctorate, Weatherspoon plans to pursue a career in academic research."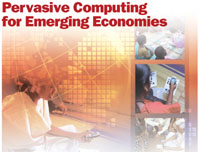 Images from CSE graduate student Tapan Parikh's CAM project comprise the cover of the April-June 2006 issue of IEEE Pervasive Computing, and he is the author of one of three papers included in this special issue on "Pervasive Computing for Emerging Economies." Tapan's research focuses on designing computing systems that support sustainable rural development in low per-capita income economic conditions.
The Google Anita Borg Memorial Scholarship was established to honor the legacy of Anita Borg and her efforts to encourage women to pursue careers in computer science and technology. For the 2006-2007 academic year, Google received 324 applications from students at 90 different universities across the country, and selected 19 scholarship winners, including UW CSE graduate student Michele Banko. The competition also identified 28 runners up from the 324 applicants. UW CSE's Annie Liu and Sunny Consolvo were in this select group. Congratulations to Michele, Annie, and Sunny!

"Henry M. Levy, a longtime University of Washington professor and expert in operating systems and computer architecture, will be the next chair of the university's Department of Computer Science & Engineering. Levy will replace David Notkin, who has held the position for the past five years. Levy's first official day as chair is Saturday, April 1.
"Levy said he is honored to be following in the footsteps of 'an incredible set of department leaders.'
"'The department is well positioned to become even stronger over the next few years, building on the advantages of the University of Washington and the possibilities created by our wonderful environment in the Allen Center,' he said. 'My goal is to capitalize on these advantages to move us forward to the next level.'"
(See also Seattle Times venture blog, Seattle PI, photographs of Levy's office.)

Richard Ladner and Sheryl Burgstahler are co-directors of the new AccessComputing Alliance, a national NSF-funded effort to bring more students with disabilities into computing.
"Wisdom on Mentoring -- Sharing the Methods of Exemplary Science and Engineering Mentors" (AWIS Magazine) (March 2006)
(pdf)
UW CSE professor Richard Ladner and former UW Dean of Engineering Denice Denton are interviewed by AWIS Magazine. "It is when students are empowered in a supportive environment and have developed a spiraling-upward pattern of success that we know we have done good jobs as mentors."
Matt O'Donnell, Chair of Biomedical Engineering at the University of Michigan, has been named Dean of the College of Engineering at the University of Washington. "I'm genetically Irish," he said. "Mist doesn't bother me." Further information on O'Donnell may be found here.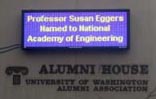 The UW Alumni Association tested out the new reader board on Alumni House by congratulating CSE Professor Susan Eggers upon her election to the National Academy of Engineering.
The Natural Sciences and Engineering Research Council of Canada awards Steacie Fellowships to outstanding Canadian university scientists or engineers, who have obtained their doctorate within the last 12 years, and whose research has already earned them an international reputation. UW CSE Ph.D. alumna Gail Murphy, a Computer Science faculty member at the University of British Columbia, was one of six Steacie Fellowship winners this year.
Ph.D. alumna A.J. Brush in Seattle Times (March 2006)
UW CSE Ph.D. alumna A.J. Brush was featured for her demonstration of an "inkable digital family calendar" at Microsoft TechFest.
ACM President David A. Patterson (UC Berkeley) has named CSE's Ed Lazowska as a recipient of the 2005 ACM President's Award. Lazowska is being recognized "For showing us how to advocate effectively for IT research and advanced education." Other recipients are Andy Bechtolsheim (Sun Microsystems) "For showing us how to overcome extraordinary financial success to remain one of the world's best computer engineers, and for sharing his time, talent, and wealth to give dozens of startups a chance to succeed," and Jan Cuny (University of Oregon and NSF) "For showing us how to help underserved populations as a computer scientist, a parent, a teacher, a civil servant, and a citizen." The ACM President's Award has been conferred to only 7 people since it was instituted in 1985. It will be presented at the ACM Awards Banquet in San Francisco in May.
"Ed Lazowska, PITAC co-chairman from 2003 until the committee's end in June 2005, said today, 'It's a new day since the President's State of the Union message. The American Competitiveness Initiative gives reason for hope that research and advanced education will receive appropriate prioritization. That creates an opportunity for PCAST to be effective.'"
UW CSE Ph.D. alum Geoff Voelker, an Associate Professor in Computer Science & Engineering at UC San Diego, has received the UCSD Chancellor's Associates Award for Excellence in Undergraduate Teaching, UCSD's most prestigious award. The citation reads:
"In recognition of your ability to inspire young minds to stretch in terms of technical ability, problem-solving and teamwork; for showing faith in your students' abilities through your design of CSE 125, "the games class," which has been a life-changing experience for many, and has provided a model for other courses; for providing students with valuable, highly marketable skills; for your enjoyment of your work; and for your tireless accessibility and responsiveness to students who not only learn, but learn to succeed. It is with sincere gratitude and appreciation that the Chancellor's Associates bestow this award."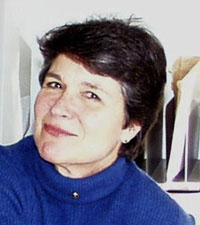 Susan Eggers, Microsoft Professor of Computer Science & Engineering at the University of Washington, has been elected to the National Academy of Engineering "for contributions to the design and evaluation of advanced processor architectures."
Election to the National Academy of Engineering is among the highest professional distinctions accorded an engineer. Academy membership honors those who have made outstanding contributions to "engineering research, practice, or education" and to the "pioneering of new and developing fields of technology, making major advancements in traditional fields of engineering, or developing/implementing innovative approaches to engineering education."
UW press release here.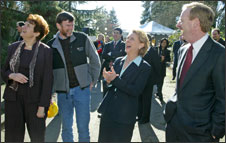 "Construction on the first building, a new headquarters for Microsoft's advanced-research group, began just after the politicians spoke Thursday, when Rob Short, vice president of Windows core technology, used a large yellow excavator to begin demolishing an old storage facility.
"Short bid $1,100 in the company's United Way auction to spend an hour tearing down a building on campus.
"After taking a ceremonial chunk out of the building, sending dust onto the officials, media and publicity agents, Short took a break until the crowd dispersed.
"'I'm seriously into it, but they don't want me driving this around with all the dignitaries present; they're afraid I'll hurt someone,' he said."
"Ranking Colleges Using Google and OSS" (February 2006)
The University of Washington is ranked #1 in the nation if humans do not participate in the assessment. We knew we liked Google + Support Vector Machines! So do "National University" and "The American College."
2002 UW CSE Ph.D. alumnus Mathieu Blanchette, now a professor at McGill University, has received the 2006 Overton Prize from the Society for Computational Biology. The prize is awarded "for outstanding accomplishment to a scientist in the early- to mid-stage of his or her career who has already made a significant contribution to the field of computational biology through research, education, service, or a combination of the three." UW Biochemistry's David Baker received the 2002 Overton Prize.
"That's the overall message of a new study by University of Washington computer scientists who sampled more than 20 million Internet addresses, looking for programs that covertly enter the computers of unwitting Web surfers to perform tasks ranging from advertising products to gathering personal information, redirecting Web browsers, or even using a victim's modem to call expensive toll numbers."
See also Science Daily, PhysOrg.com, LiveScience, EurekAlert, Slashdot.
"Sure, the real news here would have been if they had hoisted Steelers banners, but hey, it still must be nice to know that the people at your namesake building are supporting your football team ..."
"Former PITAC members say the nation's future depends on higher funding levels for science, engineering and advanced education than what the administration has budgeted. 'PITAC, for example, was under strict instructions from OSTP not to issue any recommendations that called for additional funding,' said Ed Lazowska, former PITAC co-chairman from 2003 until the committee's end in June 2005. 'When we deviated and recommended even an extremely modest amount of additional funding -- as we did in our cybersecurity report -- we were greeted with, at best, cold stares,' he added."
"Community Mourns Loss of Jerre D. Noe" (Computing Research News) (January 2006)
"Under his leadership, UW CSE became one of the strongest computer systems research groups, and one of the top computer science programs, in the world."
UW's Classroom Presenter and use of ConferenceXP highlighted in Microsoft Research News & Highlights (January 2006)
"In 2004 and 2005, the University of Washington, the University of California, Berkeley, the University of California, San Diego, and Microsoft Research collaborated to explore the impact of ConferenceXP on real-time distributed education by teaching computer science graduate courses collaboratively. The 2004 offering, 'Information Technology and Public Policy,' was followed in 2005 by 'Homeland Security.' About 80 graduate students -- from computer science, public policy, and other fields -- three faculty members, and 10 guest lecturers participated in each course. Participants found the approach offered enormous advantages over traditional lectures by including diverse faculty and students and by offering an ability to attract phenomenal guest speakers regardless of geography."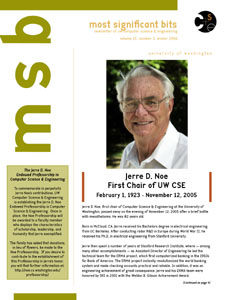 This issue of MSB commemorates Jerre D. Noe, first chair of Computer Science & Engineering at the University of Washington.
"Imagine Googling your car keys ..." (January 2006)
CSE professor Gaetano Borriello is interviewed on NPR's Marketplace.